As the Labour administration marks its first 100 days and as the PN looks forward to regrouping with a fresh new team at the helm, Josanne Cassar speaks to former PN insider, and now the co-owner of Malta Today, Roger de Giorgio
He is one of the most low-key people I have ever met, and usually shuns away from any type of publicity. I was therefore pleasantly surprised when Roger de Giorgio agreed to an interview.
The elegant rooftop restaurant at Le Meridien, Il-Bajja. was the perfect venue to take my equally elegant guest. Our location gave us a breathtaking bird's eye view of the whole of Balluta Bay and the stretch of promenade leading toward Barracuda and Sliema. The peaceful tranquillity of our surroundings, perched as we were high above the bay, was in stark contrast to the traffic chaos and confusion reigning below.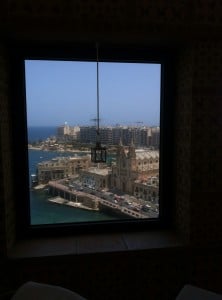 We could enjoy the nice breeze while still being sheltered from the sun by the additional roof which had been built. In the evenings Il-Bajja is transformed into a casual dining place, with grilled dishes as its speciality.
Damian Peplow, the operations manager, led us to our beautifully laid out table and we discussed the menu. Roger is extremely careful with his diet, preferring to eat lightly – no bread and no jacket potatoes for him, just the fish and fresh vegetables.
Today, most people know Roger as one of the owners of Malta Today, together with Saviour Balzan. But for 22 years he was an employee of the Nationalist party, and was right in the thick of things during the turbulent 80s.
"In 1979, I happened to meet Noel Buttigieg Scicluna at the airport and he asked me whether I would be interested in helping the party," Roger recalls. That chance meeting led to a period of his life which saw him become involved in Malta's greatest political turmoil as the PN, led by Eddie Fenech Adami, faced off against the irascible Labour leader Dom Mintoff.  When Xandir Malta took yet another ugly, undemocratic turn and Eddie's name was no longer mentioned, it was decided to implement a boycott against those who were sponsoring the national station with their advertising. Roger was put in charge of running the Boycott office.
"It was a bold statement and we felt it was necessary. There was a great feeling at the time of everyone wanting to get involved; the Stamperija was filled with a lot of energy and excitement".
Another turning point came after 1996 when the Labour party led by Alfred Sant won the elections – many at Stamperija blamed the fact that the PN did not have its own TV station, and that Labour had won because of the popularity of Super One. Although Roger was not thoroughly convinced, he agreed to help set up Net TV – when in 1998 Mintoff brought down the Sant government, some felt that the decision to set up Net TV had been justified, but Roger disagrees.
"I feel one of the ways the PN can overcome its current financial crisis is if it allows its party members to become shareholders of Net TV."
"I do not believe in political stations which speak to the converted. I have always felt that Net TV should be a second national station which is open to all where current affairs can be discussed openly, because as a partisan station it is simply not sustainable. In fact, I feel one of the ways the PN can overcome its current financial crisis is if it allows its party members to become shareholders of Net TV."
It has often been rumoured that Roger de Giorgio left the Nationalist Party because he was continuously clashing with Joe Saliba, the new secretary general who took over in 1998. But Roger denies this with a firm shake of the head, "I worked well with all four secretary generals, Louis Galea, Austin Gatt, Lawrence Gonzi and Joe Saliba. What happened was that Joe wanted all of us employees to sign a contract of employment. As I had never had a contract but had worked for the party for so long, I didn't feel it was necessary to tie me down like that. We could not come to an agreement about this, and that is why I felt I had to leave."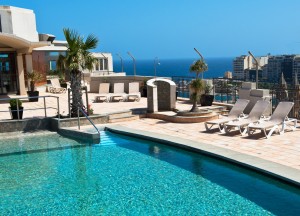 After a brief stint as managing director of The Malta Independent, Roger took the decision to buy into the Malta Today.  Suddenly, from being a 'party man', he found himself on the other side of the fence, running a no-holds-barred newspaper which focused the spotlight on those in power, many of them his former colleagues. He admits that there was a period of adjustment necessary as he began to see the PN with fresh eyes "the way it is perceived from the outside."
It seems to me, however, that for someone who believes in the free press as much as Roger does, this is the role he was meant for.   He does not mince his words, but he is fair in his criticism.
I ask whether he finds it ironic that from running a Boycott office his own paper ended up being distanced by the former PN administration (it was open knowledge that two former ministers,after a while in government, refused to advertise government ads  in MT). He smiles ruefully, "yes, ironic."
But he is quick to point out, "that has all changed now. On being elected deputy, Beppe Fenech Adami sent us an article which we published and Simon Busuttil visited our offices, met our journalists and started a new page."   He agrees that the Gonzi administration had adopted a siege mentality when it came to the independent media and rather than trying to listen with an open mind to its critics, it became antagonistic towards anyone who was criticizing it.
"As a national newspaper we were reflecting the general feeling in the country and I think we were proved right."
Having said this, Roger refutes any allegations that MT was trying to bring the government down or was trying to get the Labour party elected. "As a national newspaper we were reflecting the general feeling in the country and I think we were proved right. We are being equally critical of the new Labour government and will continue to break stories which we feel are in the public interest."
Another allegation I bring up is that John Dalli is funding MT, which Roger also denies. Having said that, however, he points out that Dalli's removal from EU commissioner  is one of many issues raised by MT which seem to be completely glossed over by PBS.
"How can you have a national station which is not discussing what people in coffee shops are talking about?  So many important stories are being completely ignored. I think a serious analysis needs to be made of the vision we want for the national station – personally I think it should be like the BBC with a board of governors, and completely autonomous from the government. But so far, this discussion about PBS has not taken place, which is very disappointing."
Like many other people, Roger is equally disappointed that the first 100 days of the Labour government have led to so many dubious appointments to public boards, not based on merit, as was promised, but political allegiance; the very thing that Labour criticized the PN for. He was also expecting more bold decisions from an administration which has a nine seat majority, saying they should have "hit the ground running."
"Muscat can afford to go to his cabinet and be more decisive, implementing much needed reforms in the crucial sectors. It is not enough for him to say 'I am not happy with the health sector'. Do something about it. He has a mandate to do so and does not need to worry about not having the support of his backbenchers."
Inevitably, we also speak about the current state of the PN. Roger says that the party started falling apart years ago, and when I ask him to pinpoint one particular event, he mentions the appointment of Eddie Fenech Adami as President, a decision which did not sit well with many supporters. Many observers have pointed out that the party gradually began to lose all sense of its identity and ethos, while many disenchanted stalwart party members no longer felt at home in the party they had militated in all their lives. He does not feel that those who switched and voted Labour were all necessarily opportunists who were "in it for their own gain". "Many simply wanted to drive home a message, but the good news for the PN is that the fact that they switched means they can also switch back. It is not impossible."
"…if you look back, every time there is a change of leader, that party inevitably wins."
Unlike others who have criticized the choice of Simon Busuttil as the new leader, Roger seems to be more willing to give him the benefit of the doubt. "Don't forget,   Eddie was underestimated as was Alfred Sant and Lawrence Gonzi and as was  Joseph Muscat prior to the last election. However, they all won that particular election – in fact, if you look back, every time there is a change of leader, that party inevitably wins." He also feels that Simon's gaffes during the campaign which brought him so much flak, will in time be forgotten as he learns from his mistakes.
"When I heard him speak at the general council, I saw a different Simon. He was more congenial then before. Unfortunately, on the other hand, Muscat's statement about the PN electoral defeat report did not set the right tone. As a country we need to learn to be more magnanimous in victory. And when you have a nine seat majority, you have to be even more gracious and magnanimous."
This gentlemanly trait is one of the things I have always like the most about Roger; the ability of knowing the correct way to behave in all situations. There is a lot to be said for instinctively saying the right thing at the right time, and many of our politicians have a lot to learn in this respect.
Turning to the new trio at the PN helm, Roger feels that together with Simon, Beppe Fenech Adami and Mario de Marco will help to bring together the various factions which split the party. But when I suggest that the choice of Beppe was done in order to placate those who were 'ta' Eddie', Roger corrects me.
"I don't think there is such a thing as a faction 'ta' Eddie'. The whole party is ta' Eddie. Don't forget this was the man who brought down Mintoff, so for the supporters that is not something which can ever be erased."
Apart from MT of course, Roger also owns the legendary Gianpula nightclub, which so many of us remember as the place to be in the 80s and which he ran with his wife Josianne. Today, it is run by his son, "who has taken it to a completely new level". His daughter meanwhile is based in London where she works as an interior designer.
Nowadays Roger goes into the MT office a couple of hours a day, where he meets up with the small, but very dynamic newsroom. "We are proud of our team of journalists, some of the best of the island, all of whom are very opinionated! Our meetings are sometimes chaotic as everyone comes out with their ideas, and new stories."
Then of course, there is the inimitable Saviour, whose fiery temperament could not be more different to Roger's.
"That's true," Roger chuckles quietly. "The thing is that although we may not agree on many things there are two things I admire greatly about Saviour, first that he is truly committed to changing things in this country and secondly that he is so gutsy and fearless."
In direct contrast, Roger is calm, thoughtful and weighs his words (and I suspect his actions as well) very carefully.
It is a combination which seems to have worked.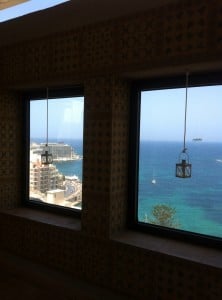 What we had for lunch 
Grilled seabass
Jacket potatoes with sour cream and chives
Fresh string beans with olives