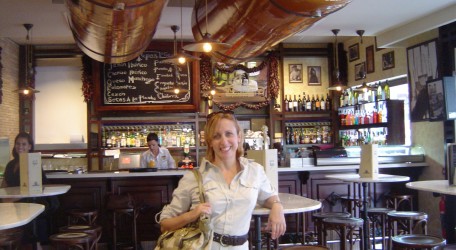 Isabel Warrington at Cañas y Tapas, St George's Bay
Cañas y Tapas is located where the former Fuego used to be. A few months ago, the owners decided to change the very popular salsa club into a Spanish tapas restaurant which is open from breakfast to late night, and the idea has proved to be a wise one.
The menus are detailed but Almu, the Spanish manager, was very patient with us and we left it in her hands to bring us a selection of tapas.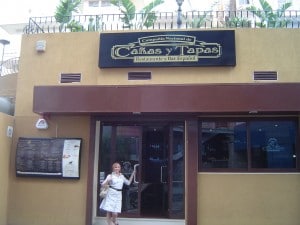 I'm here to interview the irrepressible Isabel Warrington, editor and designer of Pjazza magazine, but above all, a talented actress. People are already raving about Even More Four Play which has just finished its opening weekend, and it looks like the three more shows lined up for this weekend are going to be sold out as well.
This is the third edition of the zany collection of sketches in which four actors interpret a wide variety of characters, in a script written by four writers and directed by four directors.
"There was a bit of apprehension when we produced the second one," Isabel admits. "But we played to packed houses and even had to add on a show.  So the formula works; we know that Maltese audiences love comedies and what really appeals to them is that it's local humour, you're laughing at people you recognize."
The secret to good comedy, of course, is that you start off with intelligent, witty scripts. The right directors then have to be chosen (in this case Denise Mulholland, Wesley Ellul, Herman Grech and Chiara Hyzler) who understand the nuance of comic timing and pacing. But none of this would be possible unless you have a cast of versatile actors who possess a lot of stamina and a complete lack of inhibition. Along with Isabel we will be seeing Alan Montanaro, Alan Paris and Louiselle Vassallo. It's a small cast with great chemistry, and because the rhythm of the sketches is so intense, there is no time for diva behaviour. "That would be disastrous", Isabel agrees.
In this edition, Isabel plays no less than nine different characters including an overweight aerobics instructor, a little boy, a horny housewife, a well-known Maltese man, a virgin bride, a bimbo assistant to a magician and a newscaster.
"It's a matter of concentrating on who you are at the time, wearing the character and becoming that character for a while", she explains as I wonder how she can keep all those 'people' in her head without ending up with an identity crisis. "During the rehearsal process you are already forming the character, and yes, I take my inspiration from real people I actually know. Sometimes they do recognize themselves, and most of the time they are quite chuffed. Then there are people whom we impersonate like Glenn Vella, for example, who sent a nice message on Facebook saying he's sorry he's not going to be there, but to break a leg. Our humour is not scathing, just a bit of fun."
The collaboration between the writers (Alan Montanaro, Malcolm Galea, Denise Mulholland and James Calvert) and the actors is crucial, with the former accepting changes with good grace when the latter suggest some tweaks to the dialogue or add a joke to keep abreast with changing events. Moving to Sir Temi Zammit Hall this year means the play has a longer run, which is welcomed by the actors, who have more time to hone their character and discover new ways of enriching the role.
"Sometimes while doing something mundane like driving, I think, 'oh she would do this, or she would say something like this.'
I tease Isabel good-naturedly about how much she gets into her more raunchy roles (she posted a photo on Facebook posing as the horny housewife, eliciting a stream of comments from friends). Is this kind of role tapping into another side of you?
She screams with laughter, "Yes!"
Today, at 43, and single again, Isabel is the epitome of an independent woman. She is not afraid to try new things, and last year qualified as an aerobics instructor, teaching classes a few times a week. She has been self-employed for about 8 years. "I like being my own boss; I like the fact that if I think up an idea and feel that it's viable I can just go for it – I don't have to go through any channels. I don't want people to discourage me and try to talk me out of it; I make my own judgments. I'm very organized as well, and although I didn't think I was business-minded, I found out that I could do it. Now I'm at a point in my life where I say – I don't care, I know what I'm capable of."
Isabel hasn't always had this strong belief in herself; in fact she claims she was the complete opposite.
"As a child I was painfully shy, with no self-confidence at all, but I hated that about myself. I made a conscious effort to change, because it is very limiting when you are afraid to do something. You have to face your fears, then you are liberated, and that will lead to other things. When you change like that, you transmit it to others, and people start to have faith in you as well."
This brings us to a topic I often wonder about: generally speaking, many women find it difficult to accept new opportunities offered to them as they are too self-effacing, whereas in my experience, too many men who are clearly not qualified for certain careers go in for them regardless.
She nods in agreement, "I think it is the way women were brought up and schooled in the 70s and 80s. Unless you came from a business family, or you happened to have it in you, the idea was never presented to us that we could be business people. And I was never encouraged to think like that because my mother is very apprehensive and cautious, she is always telling me, 'are you sure you can do this?' For example, I worked at the bank in my early 20s when property was relatively affordable, and I always wanted to buy my own property. I didn't want to wait until I got married; I always wanted to be independent. I used to look at these dumps and visualize how I could turn them into a nice home. But I never went for it because my mother was always telling me 'no, are you crazy, buying it by yourself?' Now I wish I had had the guts to buy a place back then because I really could have made money!" she adds ruefully.
But despite her mother's cautious nature, ironically enough it was her mother who made her so independent, advising her not to get married too young. This advice Isabel took to heart – and even though she was married for ten years, today she loves having her own space. "I'm not afraid of being on my own. I don't need to have people around me all the time, in fact about 50% of the time I need my own space. Today I've realized that I have never really known myself as I do now, so I've let go even of certain hang ups that I had before, when I used to hold back."
Hang-ups? Isabel? This is hard for me to believe having seen how uninhibited she can be on stage.
But she insists that it's true, "there is a side to me that really isn't confident you know. Now, for the first time in my life, I feel very much in control of myself, and I feel at peace."
Getting older doesn't daunt her one bit. "Theatre keeps you young because there is such a positive vibe, and you are working with people of all age groups. One person I greatly admire is Peter Howitt: he is in his 80s and he's still there, designing sets. Age doesn't matter any more. If my mind is young, why the hell should I worry about my body? Of course, I take care of myself in the physical sense, and I am in vain. When you look in the mirror in the morning and your stomach which used to be concave is now very convex, you think bloody hell! What happened? Then I turn around and say, 'Izzy, look, you're 43 years old, face it! You have quite a sedentary job, so this is it'. But I'm not going to starve myself from all the good food and from having an extra drink. I want to live. When I don't look my best, I have a good night's sleep and say sod it! If people don't like it I'm not forcing them to look," her laughter peals out at this last quip.
Isabel is clearly enjoying this new me ne frega attitude of hers, but underlying her positive attitude towards aging is a certain realism: "Look it's going to happen, and I thank God I've made it to this age. When you think how many people have died young  or are at this very moment, very ill, you should be really happy and proud that you've reached a certain age."
This is not to say, she doesn't have her bad days. "When I'm tired and over-stressed, then I can be extremely negative, but it's a fleeting thing. I get a good night's rest, and I'm back up again."
Can you be very bitchy?
"I can," she tells me meaningfully. "But it's not something I particularly enjoy unless someone has been extremely unkind to me. I don't like hurting people's feelings. Although I am patient I can also be quite volatile. I think it's because I'm very passionate. When something goes wrong, I'll express myself, it's an explosion but it's gone."
She is not one to play games – you always know where you stand with Izzy. "I don't have the time or energy to stew and dwell on things. That's one of the things I like about working freelance; if you have worked on a project which has not gone well, and things have bothered you, you have the choice not to work with that person again. Unlike an office where you are stuck with a personality you don't like, and you're living with that person every day. That's something which saps my energy. I would rather have too much work rather than dealing with these things – it literally drains me."
Isabel is a woman who is so much on my wavelength that we could talk for hours (in fact, I think we did). Another thing we agree on is our dislike of what she describes as 'posers and ponces'.
"I really don't like people who think they're any better than anyone else because they have more money or for any other reason. I don't like snobbery; I'm very down-to-earth."
Now hearing this from someone such as Isabel lifts my spirits. After all, she could be the poster girl for the "St Joseph's School, Sliema-English-speaking" stereotype and it would be easy for anyone who does not know her to dismiss her as the archetypical kiesha tal-pepè(i.e. a snob).
"I'm so not like that. But they hear the accent and think, oh God, another one of those. And, unfortunately, yes, the prejudices exist. For example, I have just signed a konvenju to buy a lovely old house in Senglea, a town I have always loved. But imagine, I haven't told my mother yet, for example! When I first hinted that I was looking at property in Senglea, she was appalled, 'why Senglea?' Yes, there are working class people there, but so what? That is no disgrace. I have mixed with so many people in my life, that I really don't care where someone comes from. Just because someone is Maltese-speaking I don't feel I'm superior to them and I will always make an effort to speak in Maltese. It's absolute crap that some people insist on speaking English to a fellow Maltese who does not speak English. As for this 'hamalli' stereotype, to me, as long as a person leaves me in peace and is decent to me, and doesn't make my life a misery, I don't care if they come from Mars. I respect them as human beings, if they respect me back, then I'm happy. We're all Maltese, we're all equal at the end of the day, no matter which language you speak or what you do for a living
Again, she credits theatre with opening her mind – because like age, this is an area where class doesn't matter.
"I've worked with people of different backgrounds, and whether it's in dance or drama, when you're in a production, you're all in it together. But in other areas, this prejudice seems to have grown even between colleagues, and it is so very wrong."
The way she deals with misconceptions about herself is by being upfront, in typical Izzy style. "In fact, after I break the ice with people, usually by poking fun at myself and the fact that my Maltese is atrocious, they often tell me they had the wrong impression, and imagined that I was a huge snob."
And she bursts into peals of laughter once again at the absurdity of such a label being attributed to her. 
WHAT WE HAD FOR LUNCH
 Surtido ibericos – traditional Spanish hams and meats
Patatas bravas – fried cubed potatoes with Spanish brava sauce
Mixto croquetas – traditional croquettes
Heuvos rotos pollo y chistorra – chicken pieces with spicy sausage
 For dessert  
leche frittas -creamy fritters with cinnamon