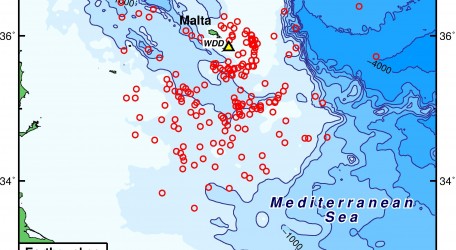 Discover earthquakes and seismic monitoring at Science in the City
 What is an earthquake?  Have you ever felt an earthquake? Do you know why earthquakes happen only at specific regions on the planet and how seismologists have discovered the structure inside the earth?
Seismologists are scientist that study earthquakes. The seismologists from the Seismic Monitoring & Research Unit (SMRU) of the University of Malta will be setting up a special stand dedicated to earthquakes at Science in the City on Friday 27th September.  From 6.00 pm onwards, they will welcome visitors at Valletta City Gate and will demonstrate why the earth shakes as well as answer questions from the public.
"Animations that simulate the propagation of an earthquake through the ground, and what it sounds like will definitely captivate people of all ages," said Matthew Agius, a researcher at the Physics Department, University of Malta and member of SMRU.
"Malta has its very own earthquakes. They occur off-shore beneath the sea. Whilst many of the earthquakes are not felt by humans, seismologists use very sensitive instruments such as seismometers, to detect and locate them using sophisticated software in near real time," added Dr Agius.
Visitors will be shown an animated seismicity map of the Mediterranean highlighting the numerous earthquakes that occur in the region making it one of the most seismically active places in the world.  Those who have experienced an earthquake are invited to come forward and join in a discussion.
As part of the EU-wide event "Researchers' Night" held annually on the fourth Friday of September, "Science in the City" is intended to encourage public recognition and appreciation of researchers and their work through a variety of fun-learning science activities for young people and the entire family.
The "Researchers' Night – Science in the City" festival is supported by the EU FP7 Programme and the Malta Arts Fund. The event is coordinated by The Research, Innovation and Development Trust (RIDT) of the University of Malta, and the Malta Chamber of Scientists, in partnership with the Valletta Local Council, the Parliamentary Secretary for Research, Innovation, Youth and Sports, MEUSAC, The Malta Council for Science and Technology, The Malta Council for Culture and the Arts, PBS, Where's Everybody, Valletta 2018 Foundation, Notte Bianca, iCreatemotion, Microsoft Innovation Centre, Vodafone and St James Cavalier.
The Science in the City website www.scienceinthecity.org.mt will be shortly updated with a full programme or follow the festival on Facebook for regular updates: www.facebook.com/ScienceInTheCityMalta
Ends