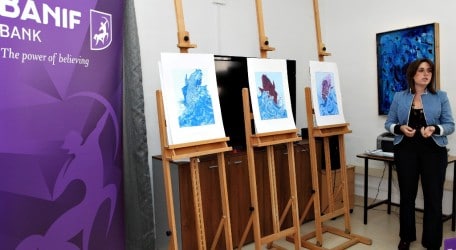 Twelve art works created by students at the MCAST Institute of Art and Design have been chosen by Banif Bank (Malta) plc to feature in the Bank's calendar for 2013.
In an initiative that supports young people, education and the arts, Banif Bank commissioned second year students preparing for the National Higher Diploma in Fine Art to create works that represent the Bank's slogan 'The Power of Believing'. Banif believes in striving to prevail, in determination, and in making things happen – all values that are shared by so many young people finding their way in the world.
The intention was to give students an opportunity to showcase their art and to work with Banif who doubled up as a "client". The exercise also served the purpose of bridging the gap between education and industry.
Under the guidance of their tutor Sarah Mamo, the students worked hard on idea generation, concept drawings and preliminary sketches while the final output was presented to Banif during a formal presentation.
The students presented their work to a panel of judges who considered a mix of criteria including but not limited to technical skill, originality and creativity and theme interpretation.  The students were mostly given a free hand in stylistic preferences and materials. They could use both traditional and non-traditional media but had to use at least one type of wet medium.
"It is imperative that students are exposed to opportunities where they have to produce work commissioned by companies and clients," said Stephen Vella, Director, MCAST Institute of Art and Design. "We are grateful to Banif Bank for giving our students the chance to do this. The students participated in an exercise that is a close simulation to what they will experience in the future, including working within brand guidelines and requirements, and presenting the client with concepts and the final product."
"Banif believes in initiatives that support young people's potential and development," said Charles Mizzi, Head of Unit Image and Communications, Banif Bank (Malta) plc. "This activity has given us great satisfaction and we'd like to thank both MCAST and the students for giving us the opportunity to work together. It was great to see how seriously the students work towards their goals. We're now busy with the production of the calendar and we're eager to see the final product."