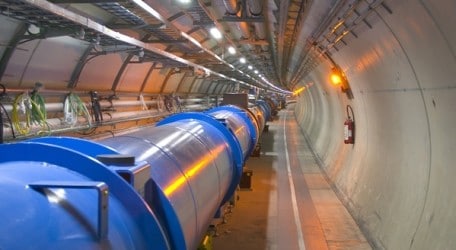 Maltese scientists will be sharing their experience with the public and answering any questions at the Casino Maltese (Republic Street) during the CERN, ALICE and the Universe presentations. CERN is the largest machine in the world and it is simultaneously the hottest and coldest place on Earth. CERN has a number of detectors or experiments that help make sure its discoveries are some of the soundest discoveries on the planet. This event is a mix of live video stream and discussions starting at 6.00pm. The event is free of charge.
The University of Malta has a solid research partnership with the ALICE experiment at CERN, which tries to recreate the conditions which existed in the Universe right after the Big Bang, known as Quark Gluon Plasma, by colliding highly energetic particles together. In the live interactive video stream with CERN scientists, one can learn how the LHC accelerates and collides highly energetic particle beams, and how the physicists work around the clock in order to take measurements of the collisions. Visitors will get a chance to ask questions to the CERN scientists in Malta at the 10pm Malta meets ALICE activity.
The National Museum of Archaeology (Republic Street) will be hosting two 30-minute activities on conservation and restoration of paintings for children at 7.00pm and at 8.00pm. These would be followed by two other activities for adults at 9.00pm and 10.00pm focusing on restoration of archaeological artefacts. The Museum will also be open to visitors, entrance will be free of charge.
Children and adults alike can also enjoy interactive activities related to famous scientists and inventors at the EU Corner set up by MEUSAC at the City's entrance. They can also meet researchers to get to know about their latest findings.
More researchers will be meeting the public at the Science Fair between City Gate and Ordinance Street. Researchers will be available at the health and rare diseases area, while at the DNA for life stand, scientists will show how genetics is being used to battle a host of diseases. Visitors will be able to extract DNA and see how it is separated and studied. Researchers and students will be in the area for a chat in the hands-on station and for career advice. To support these studies a Malta BioBank will be available to store samples for research around Europe.
The mobile dental clinic (Faculty of Dental Surgery + RIDT) will be in Ordinance Street as part of its national survey on oral health while providing advice and dental care for free.
Also, at the Science Fair, the Institute of Space Sciences & Astronomy (ISSA) will be setting up an interactive stand and exhibition to demonstrate the principles behind Einstein's theory of General Relativity. This does not end here, as they will also explain how this theory has been tested in the last century, including through intriguing phenomena such light bending, gravitational lensing and gravitational red shift.
The best of Malta Café Scientifique brings the most exciting talks of this popular series to Science in the City, at the Music Room, St James Cavalier. At 7.30pm Mike Rosner will discuss "Machine Learning X'inhu?". At 8.30pm, Dr Janet Mifsud and Dr Anna Micallef will discuss Brain Oscillations in Epilepsy. Dr Aaron Micallef will finish off from 9.30pm onwards talking about the deep sea freshwater reservoirs found around the Mediterranean.
European Researchers' Night, Science in the City is organised by a consortium led by the University of Malta, the Malta Chamber of Scientists, and the University's Research Trust (RIDT) together with a number of partners.
It is mainly funded by the European Commission's Research and Innovation Framework Programme Horizon 2020 (H2020, 2014–2020) by the Marie Skłodowska-Curie actions and recognised as a Festival by Europe for Festivals and Festivals for Europe (EFFE). Science in the City is supported by the Parliamentary Secretary for Research, Innovation, Youth & Sport, University Research Trust (RIDT), Jugs Malta, Studio 7, MEUSAC, MCST, Valletta Local Council, MCAST, PBS, Notte Bianca, Spazju Kreattiv, Pjazza Teatru Rjal, and General Soft drinks with Coca Cola.
The programme can be viewed on www.scienceinthecity.org.mt or follow the festival on Facebook for regular updates: www.facebook.com/ScienceInTheCityMalta.