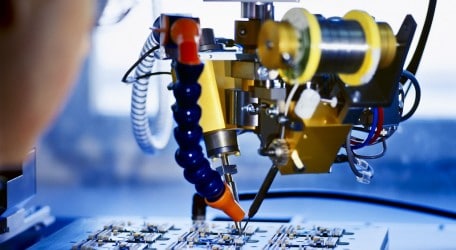 Stronger than expected recovery in leading industrialised nations has boosted global trade confidence, but subdued growth in emerging markets makes for a contrasting trade outlook around the world, according to HSBC's latest Trade Forecast.
Longer-term prospects remain strong for emerging markets, however, and they are expected to be the driving force behind forecasted growth with the value of global merchandise trade averaging 8% pa to 2030. For instance, HSBC forecasts export growth in China and India to average 11% pa and 12% pa respectively over this period.
At the same time, emerging markets are rapidly growing Research and Development (R&D) investment to capture more of the value of their merchandise exports. This trend is clear in the high-tech sector, which is given a special focus in this Forecast, and illustrates the need for developed economies to invest in innovation to remain competitive.
James Emmett, HSBC's Global Head of Trade and Receivables Finance, said: "Whilst we are seeing a contrasting short-term trade outlook, the longer-term trend for emerging markets remains one of growth and businesses need to consider now how best to capitalise on long-term trade opportunities. An important element of this is investing in research and development, which will allow emerging markets to scale the global value chain.  Importantly, developed economies need to enhance their R&D spend if they are to remain competitive."
HSBC's Trade Confidence Index (TCI), which monitors businesses' short-term trade optimism, edged up one point globally from six months ago to reach 113 in the second half of 2013. Any reading above 100 signals anticipated expansion in trade amongst businesses. This improvement was led by growing confidence in the near-term outlook amongst key industrialised nations such as the UK and US. In contrast, businesses in the emerging markets of Latin America and the Middle East reported a slight drop in trade optimism from six months ago, whilst Asian confidence remained unchanged.
Over the longer term, however, emerging economies are expected to be the key source of trade growth, as the underlying structural factors for long-run economic growth remain intact. Of the 25 countries covered by the Forecast, China already accounts for almost a fifth of the total merchandise trade and this share is expected to rise to above 30% by 2030. India, meanwhile, is expected to rise to become the world's fourth largest exporter of merchandise goods in the same period, as it sees a seven-fold increase in the value of its exports.
Emerging markets, led by China, are also rapidly growing investment in R&D, enabling them to scale the value chain. According to latest figures, China spends the equivalent of 1.8% of its annual GDP on R&D, a near doubling of the expenditure share from 20 years ago. In industrialised markets, meanwhile, R&D investment has largely stagnated as a share of GDP over the past 20 years.
Spotlight on Technology
To illustrate the value chain picture, the latest Trade Forecast puts the spotlight on the high-tech sector.
Emerging markets are still largely assemblers of high-tech goods, with a relatively small proportion of the value of these products remaining in country. Emerging nations are capturing a growing share of global high-tech exports, but the bulk of these can be attributed to the effects of increasing internationalisation of supply chains, as reflected by high-tech imports increasing at a like pace. More than 80% of China's high-tech exports, for instance, are produced by foreign-owned or joint venture firms, according to latest figures.
However, increasing R&D investment will enable tech-focused countries to scale the value chain in production of these goods, reducing reliance on foreign imports of components, and, ultimately, originating new technologies domestically.
James Emmett said: "The example of high-tech presents lessons for other sectors and the future pattern of global trade. Developed economies still benefit from their stock of IP but under-investment in research and development could threaten their competitive advantage, and presents an opportunity for emerging markets to gain ground on them. The world economy is becoming more knowledge-intensive – it is essential for developed nations to invest in research and education to retain competitiveness and enhance future growth."
Ends