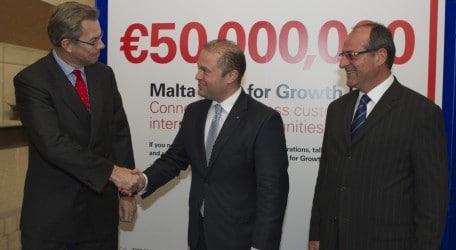 Pictured above: Mark Watkinson – CEO HSBC Malta, Prime Minister Joseph Muscat and Michel Cordina – Head of Commercial Banking HSBC Malta
A €50 million trade fund launched by HSBC Malta is offering new funding to support business growth in Malta through international trade. This funding, introduced as a part of HSBC's Malta Trade for Growth initiative, was announced at the MaltaMaritimeMuseum in the presence of The Prime Minister Joseph Muscat, HSBC Bank Malta CEO Mark Watkinson and the Head of Commercial Banking Michel Cordina.
During the presentation of the €50 million trade fund, HSBC Malta also launched two related business tools, the first being a "Why Malta?" video promoting Malta's and HSBC's role in supporting businesses, and the second being a detailed country guide, produced in conjunction with PwC, for doing business with Malta.
"This €50 million fund further boosts the Malta Trade for Growth initiative launched by HSBC Malta earlier this year, as it aims at helping Maltese businesses flourish by increasing international trade with growing and emerging markets and, equally importantly, encouraging international investment in Malta," explained HSBC Malta Head of Commercial Banking Michel Cordina.
"International trade is forecast to bring the most significant growth to Maltese companies and the Malta Trade for Growth Fund is our platform to connect Maltese customers to global opportunities, to help customers grow their business and, in turn, further the prosperity of Malta's economy. With offices on the ground in 60 markets, and more than 7,000 relationship managers operating worldwide, we are in a unique position to connect potential customers in new markets, provide local insight through people on the ground, and offer the financial support for businesses to expand globally," Mr Cordina said.
HSBC Malta CEO Mark Watkinson said: "International trade is a critical component of Malta's history, its economy, and most importantly the country's future. We believe that Malta can build on its competitive trade advantage and its strategic location that bridges Europe with Africa and the rest of the world. As one of the world's largest international banks, HSBC can add real value to the Maltese economy. The Bank is already instrumental in helping hundreds of Maltese businesses expand across borders. The addition of a €50 million fund as part of the Malta Trade for Growth initiative offers a significantly higher level of support to Maltese businesses."
Addressing guests at the launch, Prime Minister Dr Joseph Muscat said: "It is very positive to have such an established international financial institution like HSBC Malta providing tangible support solutions in the form of a €50 million trade fund as well as important promotional tools like the country guide and video – all aimed at growing and internationalising Malta's economy. HSBC's objectives are in complete harmony with my Government's commitment to make Malta a more important player in global trade. In this respect, we are building upon Malta's trade legacy by promoting international trade and attracting new inward investment, whilst capitalising on Malta's strong specialisation in trade finance provided by companies like HSBC."
Mr Cordina said that to date, more than 500 companies have made enquiries into Malta Trade for Growth as they look to grow their business overseas and take advantage of incentives such as discounts on foreign currency transactions.
Through the Malta Trade for Growth Fund, companies will be eligible for a range of discounts and incentives, including capital to support their international trade, the waiving of administration fees for finance against trade export or import, facilities for trade with emerging markets, and discounts in pricing when upgrading from traditional overdrafts to Structured Trade Finance products, such as export loans or invoice finance. In addition along with the Fund HSBC are also offering a reduction in effective interest rate for Trade and Receivables Finance facilities.
More information about HSBC Malta's trade initiatives and the newly launched €50 million trade fund is available on HSBC Malta's website at www.hsbc.com.mt/50million