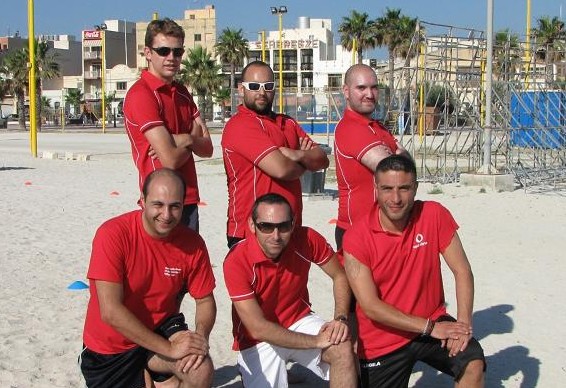 A number of rugby players from Vodafone organised a  play-off against a team of residents currently at San Blas Therapeutic Centre. This tournament, organized on the initiative of Christian Briffa from Vodafone's Finance Department, was a follow up to a Vodafone CSR day held at San Blas recently. A team of six employees made good use of the community leave that Vodafone allocates each employee for philanthropic work.  They eagerly shared their passion, discipline and commitment for rugby with the residents, using Pretty Bay in Birzebbuga as a location for this event.
Christian Briffa, Oliver Manicaro, Adrian Muscat, David Pedrick, Fabian Catania and Samuel Grech (pictured above) joined forces and played off against the San Blas team, cheered on by passers-by who stopped to watch.  Oliver Manicaro said that, "playing rugby for a whole day, barefoot, on hot sand was no easy feat for all of us.  But the exercise trained us for endurance. The team work was just great.  We received continuous encouragement all round to keep running, tackling and playing and this drove our motivation to overcome the sweat and tiredness and keep going till the end.  The satisfaction was obvious on all our faces and the positive vibe took over the whole beach!"
Residents from San Blas expressed their enthusiasm for the event.  "This was a great experience and we really had a great time!  We put in all our energy into something positive. I'm definitely looking forward to another challenging session and experience. It was great doing something different from our daily routine."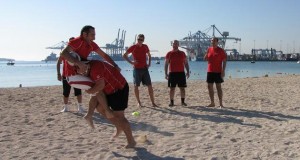 All Vodafone employees are entitled to 3 days of paid leave per year over and above their annual entitlement, to be used for work in the community. The initiative reflects the company's social responsibility policies including recognition of the importance of a healthy work-life balance.
Christian Briffa who initiated this play-off said that, "sport is the right activity to show that there is an alternative lifestyle which can be fun, energetic and most of all healthy.Rugby, just like any other sport, helps different people to interact, get to know one another and break out from our normal daily routine."
This event was a great success and similar sessions are already in the pipeline.