Access to water and sanitation underpins economic growth
According to a new study commissioned by HSBC, almost half the world's population will be living with water scarcity by 2025 unless effective measures are taken. In recognition of this looming water problem, HSBC is investing 100 million US Dollar in the most far-reaching water programme ever committed to by a financial organisation.
Following the successful conclusion of HSBC Climate Partnership (2007-2012), this new five-year environmental initiative will focus on three key objectives: providing water, sanitation and hygiene to communities in need; protecting key river basins vital to communities and business around the world; and promoting the value of water to HSBC's community of employees through learning and volunteering.
HSBC will be working closely with WWF, WaterAid and Earthwatch, to tackle the global water challenge through social and environmental projects that deliver water provision, water quality protection, and education.
These three leading non-governmental organisations, each targeting a specific area of action, will oversee projects in developed and growing markets, and driving development and socio-economic growth. WWF will work to promote more efficient use of water in five river basins in Asia, East Africa and South America. WaterAid will help 1.1 million people gain access to safe water and 1.9 million to improved hygiene and sanitation where it is most needed. Earthwatch will set up research projects in over 20 cities worldwide, working with local conservation partners to address urban water management issues.
In addition, thousands of HSBC employees and their wider local communities will be volunteering in a large-scale citizen science programme, collecting robust scientific data using innovative technology. The results of these studies will be used to support environmental projects in the respective communities and increase awareness about water conservation around the world.
Investment in water can unlock growth
A report commissioned by HSBC and prepared by Frontier Economics in June 2012, has shed new light on the ways in which freshwater and sanitation underpin socio-economic development.
This research shows that every $1 invested in water infrastructure can deliver nearly $5 of wider economic benefits over the long term, in addition to social and environmental benefits. Moreover, the research shows that the investment required to secure universal access to water in some African countries will be paid back in as little as three years.
More information and research findings relating to the HSBC Water Programme are easily available online at www.thewaterhub.org.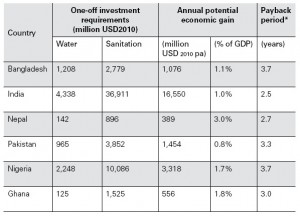 HSBC Malta's water management policies
HSBC Malta is spearheading the promotion of water-efficient practices and technologies to conserve the community's water resources:
Since 2007, the Bank has taken a firm stand against the over extraction of water from boreholes. HSBC Malta maintains a storm water reservoir – which, in 2011 alone, provided 950,000 litres of second class water – while constantly being on the lookout for private disused reservoirs to meet the bank's 2nd class water demand.
HSBC's buildings are fitted with various water saving technologies: half-flush facilities and water restrainers on all taps, giving a saving of between 25 – 65%.
HSBC Malta is participating in the Malta Business Bureau's EU LIFE+ Investing in Water Project, a €330,000 project to reduce the water consumption of businesses and hotels.
HSBC Malta's employees are actively encouraged to develop proposals as part of HSBC's Water Programme.
More information about HSBC Malta's Corporate Sustainability initiatives, including its water and energy saving strategies, is available on the 'HSBC in the Community' section of the Bank's website at www.hsbc.com.mt