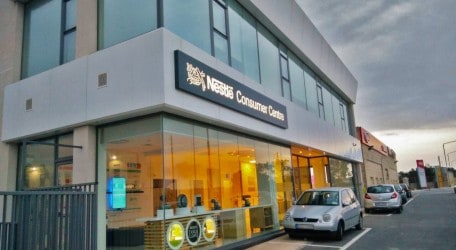 Each month an average of 8,000kg of glass jars is collected through NESCAFÉ collect scheme, on-going since 2010. Through the scheme, consumers can exchange their empty NESCAFÉ jars for gifts, ranging from Thermos travel mugs, USB sticks, and/or vouchers. Nestlé Malta works closely with GreenPak Coop Society to recycle the thousands of glass jars that are collected.
Consumers are encouraged to collect the empty NESCAFÉ jars that have the special Maltese seal of guarantee on the label. Through this scheme, consumers are actively contributing to divert these glass jars away from landfills. In return, Nestlé consumers are rewarded for their recycling efforts.
Since 2009, GreenPak has bestowed the "Committed to Recycle" seal on Nestlé Malta for working towards a better environment and for ensuring that packaging material placed on the market through Nestle's trading activity are recycled properly.
Empty NESCAFÉ jars with lids can be redeemed at the new Nestlé Consumer Centre which is adjacent to the Nestlé Malta offices on Pantar Road, Lija or in Gozo at Maltapost, Visitation Street, Għarb. For more details, one can phone Nestle Freephone on 8007 2209
GreenPak encourages more businesses to use the "Committed to Recycle" seal and communicate to their customers their commitment towards the community and their care towards the environment.