Forty-six cyclists are all prepared and determined for their RE/MAX ALIVE2017 Cycling Challenge for Cancer. They packed and loaded their bikes on Express Trailer shipping container to be sent to Copenhagen in time to start the gruelling 1,200 km challenge on 7th July.
After training solidly for 17 weeks, the cyclists are raising funds for specialised medical cancer research programme at the University of Malta through the University's Research Trust (RIDT). Altogether, the cyclists have covered 254 hours of training and a total distance of over 5100km (equivalent to the distance between Malta and Greenland).
This is the 5th ALIVE Cycling Challenge being held under the Patronage of the President of Malta H.E. Marie-Louise Coleiro Preca. Within seven days, ALIVE2017 will cover a distance from Copenhagen through Berlin and to Warsaw.
For the first time, ALIVE2017 is using two parallel routes for mountain bikes and road bikes. Twenty-four cyclists will be doing the challenge on a mountain bike which will take them on more nature trails, while 22 other cyclists will cover an extra 20 km each day on asphalted surfaces with their road bikes.

"We strive to keep our good cause for cancer research ….ALIVE! This year's RE/MAX ALIVE2017 Cycling Challenge for Cancer will be another big challenge for us all. We hope that the weather will be kind to us as we can expect regular rain showers and occasional thunderstorms," said Nicky Camilleri, chairperson of ALIVE Charity Foundation.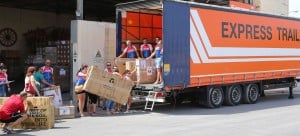 The RE/MAX ALIVE2017 Cycling Challenge for Cancer is being sponsored by RE/MAX and Friends Foundation, powered by Garmin, Wurth, Tum Invest and Finvex Group, and supported by Impressions Ltd, Maypole, RevivEstetik, Express Group, Palumbo, KPMG, Springbox Media, FCM Travel, Greens Supermarket, SIS, The Alf Mizzi Foundation, UVIA, Finsetral, Valletta Cruise Port, Buskett Stone, Outdoor Living Malta, Atlas Insurance and Wheel Wizard together with a number of fund raising sponsors.
Donations can be made by sms: 50617364 – €2.33; or call 50618081 – €4.66; 50618913 – €6.99; and 50619208 – €11.65. Visit  www.alivecharity.com/2017