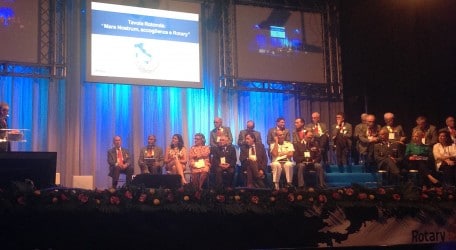 Rotarians from across the Mediterranean, including from Malta, gathered in Marsala, Sicily earlier this month to discuss issues related to the Mediterranean region with a special focus on topics such as peace, conflict resolution and social development
The Mediterraneo Unito event, which was organised by Rotary District 2110, Sicily and Malta, and supported by all the Italian Rotary Districts, had high level participation, including by Italian Senator Mario Greco, the Italian Ambassador to Morocco, the Tunisian Ambassador to Italy, the Libyan Minister of Fisheries and representatives of the three arms of the Italian armed forces.
Through the intervention of the Rotary Clubs in Malta, Martin Xuereb, the Director of MOAS, who are providing support to rescue operations for migrants in the Central Mediterranean, explained the nature of MOAS' activities. It was refreshing to hear a talk about the positive actions being taken by an NGO rather than hearing what others need to do.
During the Mediterraneo Unito event, two scholarships were awarded, funded by the Rotary Foundation and the Italian and Maltese Districts, to an Israeli and a Palestinian student who will be carrying out Peace studies together in Italy.