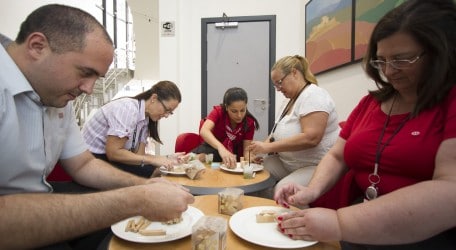 HSBC Bank Malta hosted a 'Diversity and Inclusion' day at their Qormi centre to celebrate the different backgrounds and cultures of its employees and customers.
Designed with the support of Richmond Foundation Malta to mark a Group-wide focus on disability issues, the event had an emphasis on mental health awareness and wellbeing in the workplace. The activities encouraged employees to build more effective relationships with customers and each other by appreciating each other's different abilities and perspectives.
At the start, participants were given stressful scenarios and guided through de-stressing techniques that help bolster mental strength and awareness. Employees were then invited to experience head and foot massage, and try out meditation and yoga.
Senior managers took part in the activities included in the mental health wellness marathon at the in-house gym. A plasma screen in reception area ran staff stories about how they deal with challenges and overcoming obstacles.
HSBC Bank Malta Head of HR Mandy Garner said: "Our focus on mental health and wellbeing supports HSBC Group's approach to diversity and inclusion, where all employees are encouraged to 'connect with difference'."
"Mental health issues can affect any of us at any time, so we want our employees to be more aware of their own wellbeing and the impact stress can have on us and our customers."
HSBC Bank Malta has established a number of initiatives to help further diversity and inclusion in the business. These programmes embrace the uniqueness of its workforce, promote supplier diversity, and further partnerships within the community.
Richmond Foundation Malta CEO Antoinette Shah said: "This event brought people from diverse backgrounds together to test the incredible strength of the human mind in dealing with our daily stresses and challenges in life. We hope the tips shared during the session will help the participants enjoy a more serene and de-stressed working life."
Additionally, the Bank celebrates diversity with formal and informal programmes as well as special policies and training. The Bank has more than 50 employee resource groups (ERGs), providing support and guidance to create an inclusive working environment where everyone can develop and pursue a fulfilling career. This helps HSBC meet the needs of different colleagues and customers from all backgrounds.