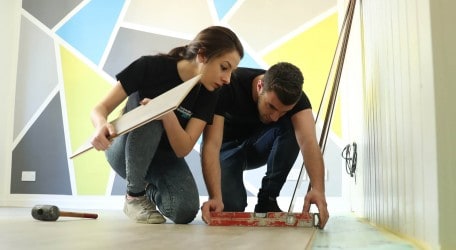 Pictured above:  HSBC Malta and HSBC UKCC team members at San Blas Therapeutic Community, Zebbug
A record number of 15 leading companies in Malta took part in the 16th Corporate Social Responsibility (CSR) Day.
Hundreds of team members from AIS Group, Computime Group, Express Trailers Ltd, Farsons Group, Forestals Group, FTIAS Ltd, Gasco Energy, GreenPak Co-Op, HSBC Bank Malta, HSBC UKCC Malta, Liquigas Malta Ltd, MEUSAC, Multigas Ltd, Nectar Group, and Tumas Group participated in an impressive show of commitment to social transformation.
The annual CSR Day evolved out of the feast of St Joseph the Worker, the latter being also a public holiday.
In the morning, all the participating companies and their representatives gathered at the official residence of the President of Malta H.E. Marie-Louise Coleiro Preca, who greeted and thanked the volunteers for their contribution to the society. The representative of the Arcbishop of Malta Mgr Charles Cordina was also present.
From the San Anton Palace, the groups made their way to their respective sites and began carrying out a range of volunteer work, from paintwork and tiling to gardening and general cleaning. Some chose to take the kids of various homes out for sightseeing. In no particular order, the chosen causes were: Helen Keller Resource Centre, Qrendi; Dar Fra Diegu, Ħamrun; St Thomas Tower, Marsascala; Ċentru Taħriġ, Santa Venera; Richmond Foundation's Kids In Development Programme, Żejtun; San Blas Therapeutic Community, Żebbuġ; St Joseph Home, Santa Venera; Sisters of Charity, Cospicua; and the Ursuline Sisters, Tarxien.