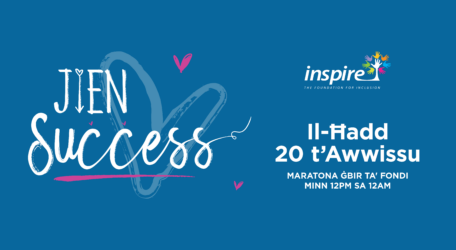 Inspire Foundation, Malta's leading organisation in the disability sector, is announcing the launch of its televised fundraising marathon, "Jien Suċċess," which will take place on Sunday, 20th August 2023 from noon to midnight. This 12-hour telethon aims to raise essential funds for the construction of the Rehabilitation & Wellness Centre at Inspire's Marsascala facility. The event will be broadcast on TVM, ONE, and NET TV stations, reaching thousands of viewers across the nation.
The chosen theme, "Jien Suċċess", perfectly embodies the core philosophy of Inspire Foundation – that every individual, regardless of limitations, conditions, or disability, deserves the opportunity to achieve success and reach their full potential. The telethon will showcase children,adults and families who benefit from the services of Inspire Foundation and are on their journey towards success.
"We firmly believe that everyone has the right to equality and full participation in society," said Antonello Gauci, CEO of Inspire Foundation. "Through 'Jien Suċċess,' we aspire to raise funds for our groundbreaking project, the Rehabilitation & Wellness Centre. This initiative will be unique to Malta and will cater to the needs of numerous individuals, including accident survivors, stroke patients, people with fibromyalgia, and the elderly, among others."
The Rehabilitation & Wellness Centre aims to establish a fully accessible facility, equipped with a rehabilitation gym tailored to the specific needs of individuals with neurological injuries or physical limitations. The centre will introduce a range of new services designed to provide emotional support and specialized offerings aimed at empowering and improving the well-being of hundreds of individuals and their families.
"We have ambitious plans for this project, and the estimated cost for constructing this facility is approximately €400,000," continued Gauci. "With the support of our generous donors, we hope to create a safe and inclusive space that fosters growth, rehabilitation, and success for all. Join us for a heartwarming and empowering experience, as we unite as a community to help those in need. Together, we can make a difference and create a more inclusive and supportive environment for individuals with disabilities."
Inspire Foundation is inviting individuals, companies, and communities to participate in the "Jien Suċċess" telethon by contributing as donors or volunteering on the event day. Volunteers will be instrumental in answering phones and supporting the smooth operation of the telethon. To volunteer interested parties can register here: https://shorturl.at/ayC16, while those who would like to donate can do so be visiting here: https://inspire.org.mt/jien-success-2023/