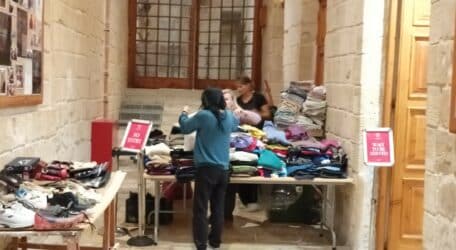 HSBC Bank Malta employees have once again come together in a powerful display of community support by donating thousands of items of clothing for a monthly initiative by the HSBC Malta Foundation and the Soup Kitchen in Valletta. Since opening its doors in August 2021, the Soup Kitchen has become a vital resource for people going through difficult times and in need of a helping hand. In 2022 alone, the Soup Kitchen served over 30,450 people, including 220 children.
In addition to offering a hot meal to anyone who needs it, the Soup Kitchen, together with the HSBC Malta Foundation, hosts a monthly clothes bazaar for the community. The clothing items are collected from HSBC staff members in a coordinated drive and then separated and sorted according to gender, size, and other useful characteristics, like weather appropriateness.
Every first Friday of the month, an assortment of clothes is delivered to the Soup Kitchen, where they are put on display. HSBC team members are always on-site to help visitors browse through the clothes to find clothing items they may require. The aim of the bazaar is to cater to as many needs as possible, whether someone is looking for a suit to attend an interview or court appearance, or a simple change of clothes for a special occasion.
Now in its sixth month, the bazaar is relied upon by many who are unable to afford new clothing. The bazaar is one of the HSBC Foundation's many CSR initiatives, through which it seeks to lend a helping hand within the community.
"We're thrilled to be able to support the incredible work done by the Soup Kitchen. This initiative allows our colleagues to give back to the community and create a positive impact on the lives of those who need it the most. It is especially rewarding to see relationships forming between HSBC team members and the patrons," said Glenn Bugeja, HSBC Malta Manager Corporate Sustainability.
The Soup Kitchen relies on donations and volunteers to keep its doors open and frequently hosts employees from various companies for Corporate Social Responsibility events.