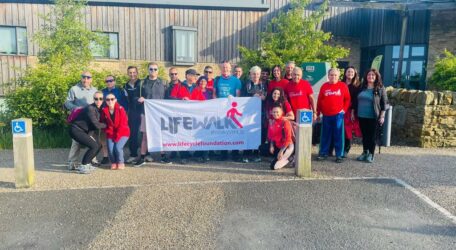 The LifeWalk Challenge – a LifeCycle (Malta) Foundation's fundraising initiative kicked off with participants setting off on the 29th of May. The 145-kilometre trekking challenge, which is in its third edition, will take place over four days. It was held for the first time in 2021, as an initiative to raise funds and support the Renal Unit, after the COVID-19 pandemic stalled the annual LifeCycle Challenge.
22 individuals will be trekking along Hadrian's Wall, the iconic fortification built by the Romans and a UNESCO World Heritage site, which stretches across the northern part of England, from Bowness on Solway on the West coast to Wallsend in Newcastle on the East coast.
Walking along this historic trail for 7-8 hours a day, is quite challenging, but it offers a combination of motivations and reasons to the participants from historical, cultural and scenic, to physical, and personal motivations, making it a popular destination for people from all walks of life.
The aim of the participants of the LifeWalk Challenge is to raise funds in aid of LifeCycle (Malta) Foundation's initiatives towards renal patients, to support medical research and raise awareness on renal disease.
The LifeCycle (Malta) Foundation is a registered organisation with the Commissioner for Voluntary Organisations. It is the only voluntary organisation that raises funds to support renal patients in Malta and Gozo and constantly collaborates with Mater Dei Hospital's Renal Unit and the University of Malta's kidney disease awareness team within the University's Research Trust (RIDT).
Since it was founded in 1999, the Foundation has raised over Eur3.2 million. Its fundraising initiatives culminate in the LifeCycle Challenge, a gruelling 2,000km cycling and endurance challenge first held in 2000, that has since become an annual fixture in the calendar of local sports and charity events.
The 2023 LifeCycle Challenge will take place in Thailand and Malaysia between the 26 of November and 6th of December, with the team cycling along the 2,000-kilometre route in 10 days.
Donations to the LifeCycle (Malta) Foundation can be made via Revolut on 9932 9101, by PayPal on this link: https://buff.ly/35g17CC and via SMS: 5061 7370 for €2.33; 5061 8920 for €6.99; 5061 9229 for €11.65; or via a call to 5160 2020 for €10; 5170 2005 for €15; and 5180 2006 for €25.
Donations can be made also via bank transfers via Swift code VALLMTMT, IBAN MT 18 VALL 22013000000014814521017, with the Bank name being Bank of Valletta, and account number 14814521017.
For more information, one can visit https://lifecyclefoundation.com or https://www.facebook.com/LifeCycleChallenge