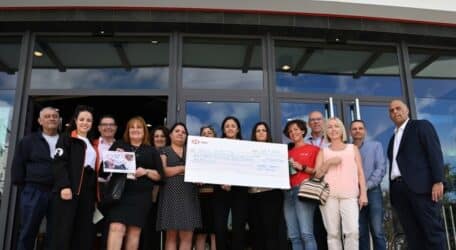 HSBC Bank Malta has presented a donation to ALS Malta on behalf of employees who recently took part in a fitness initiative to raise funds for the cause.
ALS Malta assists patients of neurological conditions through state-of-the-art solutions. It offers palliative care services and also supports neurological research in Malta.
The funds were collected as part of an initiative by HSBC Malta's Sports and Social Activities Committee (SSAC), which saw some 60 employees sign up to a mobility challenge.
Participants were asked to run, walk, cycle or swim at any a location of their choosing around Malta and Gozo. The physical activity was performed during a four-day period in September, with distances logged using a mobility app and points awarded for every kilometre covered.
One point was awarded for every kilometre of cycling, 5 points for running or walking and 10 points for swimming with HSBC Malta donating €1 for every point collected.
In total, 60 employees together completed 149.34Km of cycling, 480.97Km of walking, 541Km of running and 10Km of swimming for a total donation of €5,700 – slightly more than the €5,000 initially targeted, also thanks to a number of employees who made a personal donation.
The donation was presented to representatives of ALS Malta at a small event outside the HSBC Malta branch in Qormi.
ALS Founder Bjorn Formosa, speaking via video message said: "I would like to thank HSBC and above all you, its workers, for your continued support of our cause. We are truly grateful and appreciative of your effort!"