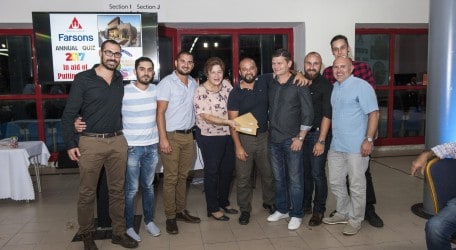 Pictured above: The winning team that raised €4,000 for Puttinu Cares. From left, Jonathan Cassar, Sean Schembri, Stephen Cassar, Lino Debono, Keith Borg, Patrick Tabone and Shaun Medina (back), with Antoinette Caruana, Farsons Group Company Secretary and Group HR Manager and Martin Polidano, Head Brewer (fifth from left)
Farsons Group, together with Multigas, Liquigas and Farrugia Investments have presented a total of €50,000 donation to the Malta Community Chest Fund during the fundraising event l-Istrina on 26 December 2017. Each company contributed respectively, €30,000, €7,500, €7,500 and €5,000.
Every year, Farsons Group employees make a voluntary contribution to l-Istrina through their monthly wages during the month of December, which sum was topped up to €30,000 by the company.
Mr Louis A. Farrugia – Chairman of the Farsons Group, led the presentation of all four cheques. He thanked Farsons Group employees for their generous contribution to those in need of support. Also attending the presentation from Farsons Group were Mr Norman Aquilina – CEO, Ms Antoinette Caruana – Company Secretary and Group HR Manager, Mr John J Attard – Employee Relations & Security Manager whereas Mr Michael Mifsud, Ms Melinda Farrugia, Mr Bernard Miceli, represented Multigas, and Mr Stephen Muscat represented Liquigas.
An additional donation of €280 was made to the MCCF through Farsons Group employees' participation in the President's Fun Run and the purchase of the book Tisjir mill-Qalb.
In addition, more funds for other causes were raised by the Farsons Group through various employee activities.
An employee Quiz Night held in October in aid of Puttinu Cares raised a total of €2,500 which was upped to €4,000 by Farsons Group. The event was also supported by various suppliers. A donation of €1,000 was also made to the Malta Hospice Movement following the Pink October and Wellness Week activities held in October. This donation was also topped up by Farsons Group. The donations were presented to Prof Victor Calvagna for Puttinu Cares and Mrs Maria Gatt for Hospice Movement during the employees Christmas Mass.
"Such fundraising initiatives reflect the company's mission and values and it is heartening to see all our employees embrace these values and contribute significantly, whether financially or through their time, or indeed both, to such causes," commented Ms Antoinette Caruana, Company Secretary and Group HR Manager.