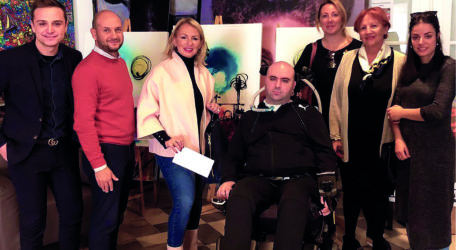 Christmas is a time when all our hearts are warmed with thoughts of presents, decorations, great food and happy moments. But this special season of the year is also, of course, the season of goodwill, and can be a tough time for many people, including those sleeping rough, elderly people living alone and those who have recently bereaved, feeling lonely or struggling to make ends meet. For these types of people, this festive season might not have the same significance, as they are less fortunate and less able to celebrate.
At DIZZ Group, Christmas time isn't about the extravagant light displays, the indulgent treats, or the number of gifts we receive, but in fact it's simple kindness and the spirit of giving that really count. One might tend to say that such statement might sound a bit exaggerated, but it wouldn't be a proper cliché if it didn't hold a bit of truth.
With this philosophy in mind, as part of its enduring Corporate Social and Responsibility initiatives, DIZZ Group has just completed a 24-day Christmas campaign in aid of 24 different NGOs and philanthropical entities in Malta. Since the first day of December, and every day till Christmas eve, the company donated money to different local NGOs, who are endlessly working to help others and make our world a better place for everyone.
"At DIZZ Group, we strongly believe that it's our duty and responsibility, to invest in our community as this is a great way to give back to those who have helped to support our business and the country's economy throughout the year to end. This year we chose to assist 24 different NGO's. The chosen entities are a representation of volunteering in Malta hence they do so much to help the communities that all of us are a part of, but they can't do it alone," said Diane Izzo, CEO at DIZZ Group.
Undoubtedly, these type of CSR ideas are important within any business company to support volunteer groups and non-profit organizations. "Our little help is a sign of gratefulness and appreciation for their hard work. I also urge other business companies in Malta to support all NGOs in Malta during this time of the year. Let's keep in mind, that the festive season is also a great time to reflect on the good things that have happened this year and to give back a little something to the community," said added Mrs Izzo.
The 24 NGO's that benefited from a Christmas donation this year, from DIZZ Group were:
Dar Bjorn
Animal Guardians Malta
Inspire Malta
The Gaia Foundation Malta
Reaching Cultures
Smiling with Jerome
St Patrick's Salesian School
bBrave Malta
Richmond Foundation Malta
Victim Support Malta
Transplant Support Group
RISe Foundation Malta
Hospice Malta
Missio Malta
Association for Abandoned Malta
Millenium Chapel
Appogg Children's Fund
The Lady Bird Foundation
Ursuline Creche
Amputees 4 Amputees
Public – Family in Need
Public – Family in Need
Fra Diegu
Dar Merhba Bik
For further information, including photos highlighting every presentation on behalf of DIZZ Group to the mentioned NGOs, visit the company's social media channels.