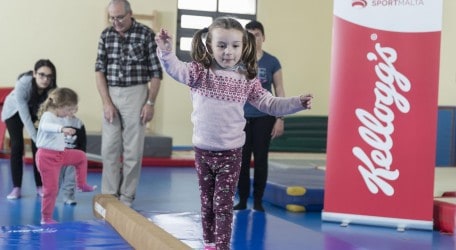 #OnTheMove – winter programme offers Parent and Child Gymnastics for pre-school children aged three to four years to introduce them to fun gymnastics. These classes allow the parent or guardian and the child to bond outside their home. Together they share the joy of learning gymnastics in a safe environment, where children can use their boundless energy and build confidence.
Run by SportMalta and sponsored by Kellogg's, the Parent and Child Gymnastics classes are held once weekly at Kirkop Sports Complex. After a short warm up and some stretching exercises, the children assisted by their parents and three SportMalta coaches, namely Emily Scerri, Yasmine Abugrin and Jess Abdilla, move through a series of stations to play at their own pace. They immediately feel confident and engage in different activities equipped with mats, trampolines, beams, and other creative and inspiring props.
"The idea is to start the child from an early age to physical activity. They can experiment simple challenges like running, jumping and balancing. The class is focused on having fun in a holistic environment and the fact that a parent is present gives them more confidence to execute the challenges," explained Natasha Cauchi, senior coach at SportMalta.
#On the Move – winter programme is sponsored by Kellogg's, the world's leading producer of breakfast cereal. For more than a century Kellogg's has been focusing on enriching and delighting the world through foods and brands that matter. The company has been extending its support to Skolasport (as formerly known) since 1999, and actively promotes a variety of educational sports disciplines within Sport Malta's winter programme.
Parent and Child Gymnastics classes are also held at Maria Regina College Secondary School in Mosta. For the pre-school children (3 – 4 years) the programme also offers Parent and Child Fundamentals at Kirkop Sports Complex and Parent and Child Swimming classes at St Ignatius College, Primary School in Siggiewi.
Further information about #OnTheMove programmes, can be obtained from SportMalta Head Office on tel. 2203 6000, via e-mail: info@sportmalta.org.mt or visit the website: www.sportmalta.org.mt.