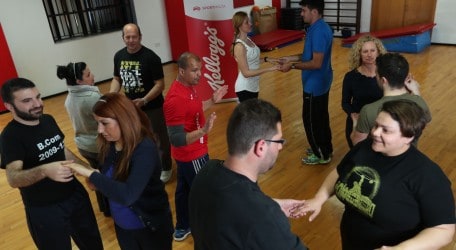 Dance instructor Joao Paolo, resident teacher at #OnTheMove programme, is conducting Salsa Fitness and Salsa Dancing classes for adults at Cottonera Sports Complex, Kirkop Sports Complex, Maria Regina College – Secondary School in Mosta, and tal-Qroqq Sports Complex.  #OnTheMove – winter programme is run by Sport Malta and sponsored by Kellogg's, the world's leading producer of breakfast cereal.
Joao Paolo makes everyone feel welcome and his method is clear, concise and while making everyone feel at ease from the very beginning, by the end of the first session, participants already feel that they have a good basic knowledge of what salsa dancing entails. The basic steps are easy to pick up even by beginners.  Joao begins by demonstrating the steps and movement for each participant to practice as solo. The same method is then practised with a different partner on rotation so that every couple becomes confident with the dance routine.
Salsa dancing is represented by a mix of Latin musical genres, and the movements have origins in Cuban, Puerto Rican, and New York dance styles. The music is fun that can easily inspire the Latin rhythms in everyone. 
For those who like the Salsa rhythm but prefer a faster style dancing, they can join the Salsa Fitness classes. These vibrant classes are spiced with aerobic exercises and set to Cuban fun music. 
Within its Adult Programme, Sport Malta offers a variety of sport activities designed to encourage the general public to take up a physical activity at least once weekly. Sessions include general Fitness programmes, Aerobics, Yoga, Pilates and a variety of sports including swimming.
Adult participants (17years+) can register for a Fit Pass and they can attend any sessions of their choice (except swimming and Squash) at Cottonera Sports Complex, Kirkop Sports Complex, Mosta Sports Complex, and Tal-Qroqq Sports Complex. The fee is €100 and covers the period from October to May.  This facility is ideal for those who work on shifts or have more time to practice sports.  
Kellogg's has been extending its support to #OnTheMove (formerly known as Skolasport) since 1999, and actively promotes a variety of educational sports disciplines within Sport Malta's winter programme. For more than a century Kellogg's has been enriching and delighting the world through foods and brands that matter.
Further information about Salsa Fitness and Salsa Dancing within #OnTheMove programme, can be obtained from SportMalta Head Office on tel. 2203 6000, via e-mail:  info@sportmalta.org.mt or visit the website:  https://www.sportmalta.org.mt/programmes/onthemove-skolasport