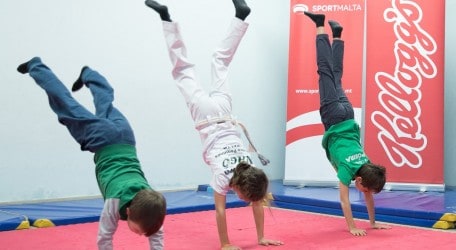 Capoeria, the martial art combining elements of dance, acrobatics and music has been introduced in the Kellogg's sponsored #OnTheMove – winter programme for participants seeking an alternative form of martial art.
Robert Portelli, Head of Programmes #OnTheMove – winter programme said: "Capoeria is still relatively new to the sports scene in Malta, but is proving to be a popular choice amongst the participants. Our sessions are geared for both children and adults who are interested in learning the basic techniques of this new fast-paced discipline."
Originating from Brazil, Capoeria is known for its quick and complex manoeuvres, predominantly using power, speed, and leverage across a wide variety of kicks, spins and techniques. In 2014, UNESCO granted Capoeria a special protected status as 'intangible cultural heritage' and is an active exporter of Brazilian culture all over the world.
The #OnTheMove Capoeria sessions are practiced at four different localities, namely at Cottonera Sports Complex, Tal-Qroqq Sports Complex, Kirkop Sports Complex, and Maria Regina College in Mosta.
The #OnTheMove – winter programme is supported by Kellogg's, the world's leading producer of breakfast cereals. "Kellogg's is a firm believer in encouraging a healthy and active lifestyle across all ages and fitness levels. Kellogg's, through its sponsorship, is further underlining its commitment towards promoting a healthy lifestyle among Maltese families," said Kellogg's spokesperson.
For further information about Capoeria classes, or any other sport disciplines practiced at #OnTheMove one can contact the Programmes Section at the SportMalta Head Office on tel. 2203 6000 or via e-mail: programmes@sportmalta.org.mt or visit the SportMalta website:  www.sportmalta.org.mt.