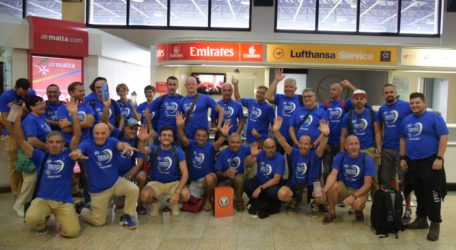 A group of 20 cyclists and seven back-up support team members from Foster Clark LifeCycle Challenge 2018 departed Malta on Emirates airline for Dubai today. Two more cyclists will be joining them from Kenya while four drivers from the Gulf region will be accompanying the group along the 2,000-kilometre route from Abu Dhabi to Salalah in Southern Oman.
Alan Curry and Dr Shirley Cefai, LifeCycle (Malta) Foundation Founder and Chairperson respectively, briefed the media present on their challenge which this year is set to be one of the toughest challenges in the past 20 years. This challenge is considered to be among the ten toughest cycling challenges in the world.
For the past 19 years, LifeCycle Challenge has been raising money to help with the needs and care of kidney disease patients.  Apart from life-saving equipment and improved facilities, LifeCycle sponsors the Twilight Shift Van to transport patients to and from Mater Dei Hospital for their evening dialysis, as well as the software matching programme called "Traccia" which determines the best recipient for a kidney donation. LifeCycle Foundation also offers a part sponsorship of the annual trip to Lourdes for patients and accompanying medical staff. 
LifeCycle (Malta) Foundation is the only NGO that is actively supporting renal patients and their families. The Foundation through LifeCycle Challenge also supports research study at the University of Malta and generates further awareness on organ donations and organ transplants.
Donations can be pledged online on www.lifecyclechallenge.com and web visitors can view updates on the Foster Clark LifeCycle Challenge on the Facebook page: www.facebook.com/lifecyclechallenge