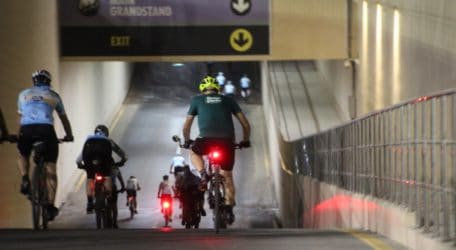 Ten gruelling days await the Arabian Knights of Foster Clark LifeCycle Challenge. The LifeCyclists will be battling high temperatures and desert landscapes from Abu Dhabi to Salalah travelling nearly 2,000 kilometres.
Today, the cyclists began their challenge with a 200 km ride from Abu Dhabi to Al Ain. The cyclists set off at 5.00am to avoid as much as possible the peak of the heat. Al Ain is the largest inland city of the UAE, also known as the "Garden City of the Gulf". Along the route, they will experience both the country's greenery and desert areas.
Yesterday, the LifeCyclists took part in a promotional event in one of the main supermarkets in Abu Dhabi. They cycled a total of 130-kilometre ride in 41-degree heat, including a few laps around the Yas Island Formula 1 track.  
"The team's morale is high. We have dedicated some time to promote our cause here in Abu Dhabi," said Alan Curry. "We are all excited for our journey tomorrow. With every stroke of the pedal we shall remember that we are doing this for the people suffering from kidney failure that need our help." 
Every participant has been working quite hard to raise awareness on kidney disease, raise sponsorships as well as building their physical stamina for the demanding challenge. 
LifeCycle (Malta) Foundation is the only NGO that is actively supporting renal patients and their families. The Foundation through Foster Clark LifeCycle Challenge also supports research study at the University of Malta and generates further awareness on organ donations and organ transplants.
Donations can be sent via sms: 5061 7370 = €2.33; 5061 8920 = €6.99; 5061 9229 = €11.65; or via a call to 5160 2020 = €10, 5170 2005 = €15; and 5180 2006 = €25. Bank details are Swift code VALLMTMT, IBAN number MT 18 VALL 22013000000014814521017, Bank name Bank of Valletta, Account number 14814521017.
Donations can be also pledged online on www.lifecyclechallenge.com and web visitors can view updates on the Foster Clark LifeCycle Challenge on the Facebook page: www.facebook.com/lifecyclechallenge