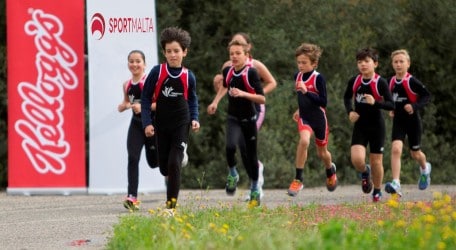 The scholastic year 2015-16 marks the 15th consecutive year Kellogg's has been providing its support to the programme 'On The Move' Skolasport making it one of the longest sponsorship relationships in Malta's sports sector. As evident by its numerous global sports sponsorships, Kellogg's is a firm believer in encouraging a healthy and active lifestyle from a young age. For the past fifteen years, over 32,000 participants received training from Skolasport and have been acquainted with the concept that a healthy lifestyle is best achieved through a balanced diet and active sports participation.
A Kellogg's spokesperson in Malta said: "This is a milestone year. Kellogg's is proud to have been supporting 'On The Move' Skolasport for all these years. Kellogg's believes in the school's valuable service of developing sport talents among the young Maltese generation. Our sponsorship further accentuates our commitment towards promoting a healthy lifestyle among the Maltese community."
Robert Portelli, Head of Programmes, said: "Long standing partnerships are hugely important to government sports programmes, such as 'On The Move' Skolasport. We are honoured to have enjoyed such a long-term relationship with a globally respected brand like Kellogg's."
"Following the success of the Horse Racing and Triathlon academies, this year we will be launching four new academies; Gymnastics, Basketball, Volleyball and Handball. Held in conjunction with the respective National Association, 'On The Move' Skolasport participants can develop their talents even further ensuring that all children achieve their potential whilst supporting our vision of upgrading the quality of our programmes even further," added Mr Portelli.
Run by SportMalta, 'On The Move' Skolasport programme covers the development of movement and physical exercise. Its main concern is to ensure that all children learn basic movement skills, enjoy being active, develop knowledge and training.
On the other hand 'On The Move' Skolasport Adult Programme is designed to encourage parents and adults to take up a physical activity at least once a week. The programme for both children and adults is flexible enough to embrace all abilities from the beginner to a trained athlete. This year 'On The Move' Skolasport is offering over 400 weekly sessions in more venues, on more days and a wider range of activities.
In addition this year, the programme has lowered the age such that toddlers as young as one year old can join the parent and child classes. These classes aim to strengthen the bond between the child and the parent, and more importantly foster an active lifestyle together from a very young age.
At the other end of the age spectrum, 'On The Move' Skolasport has been enriched with the 60+ programme with more Pilates, yoga, tai chi, aqua fitness, ballroom and line-dancing sessions across the island. This, together with other established initiatives such as the Walking & Jogging Club and free entrance for swimming at the National Pool, offer an excellent opportunity for the elderly to remain active and maintain fitness.
'On The Move' Skolasport offers various programme modules in different venues, including the Sports Complexes found in Cottonera, Marsa, Kirkop and Tal-Qroqq. Government colleges have also been roped in to reach a wider audience. These include Sta Margerita Secondary School in Cospicua, St Ignatius Secondary School in Tal-Handaq, St Clare Secondary School in Pembroke and Maria Regina Secondary School in Mosta.
This year 'On the Move' Skolasport has exceeded the number of registrations, reaching an overwhelming 5,400 participants. For further queries one can contact the Programmes Section at SportMalta Office on tel. 22036000 or via e-mail:  [email protected] or visit the SportMalta website: www.sportmalta.org.mt.