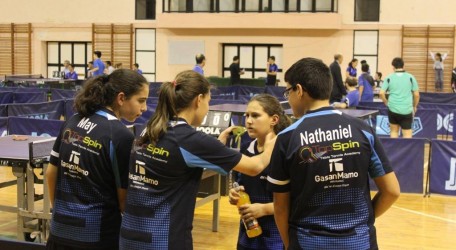 In the company's continuous endeavour to support local talent in the field of sports, GasanMamo Insurance, Malta's leading insurance company is sponsoring 4 players which are part of the Topspin Table Tennis Club. The players, May Zahra, Nicole Cutajar, Antea Cutajar and Nathaniel Debono are currently participating in the 4th Division of the Malta's National Table Tennis League and are currently in the third place.
"We see this sponsorship, as a way of supporting our local community and talent and we wish the Topspin Table Tennis Club and its participants success in the league in every way. At GasanMamo Insurance we feel that in order for sports to improve and progress, financial backing is fundamental," said Mark Mamo, General Manager at GasanMamo Insurance.
The TopSpin Table Tennis Academy fosters good sportsmanship, interest in and expansion of the sport of table tennis and has the aim of increasing the knowledge and skills of its students, and motivating them to embark on national and international opportunities. By so doing, students are helped to avoid bad habits, while keeping them focused on their academic studies by instilling in them a spirit of competitiveness.
The TopSpin Table Tennis Academy aims at providing the National Association with players that can represent the country in international events and competitions. Through the coaching lessons provided by the coaching team the Academy aims to create the atmosphere for those who want to play just for fun, or those who intend to advance to higher levels.
"Thanks to the support of companies such as GasanMamo Insurance we are able to provide children and youngsters a healthy, clean and safe environment who love the game of table tennis," said Edward Baldacchino, Director of the Topspin Table Tennis Club.