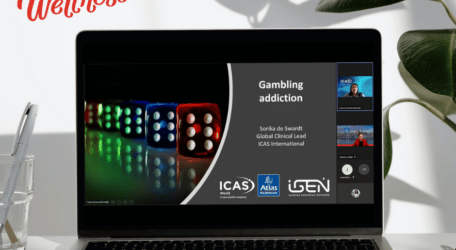 Atlas Healthcare organised a webinar titled "Leadership Tools: Identifying Gambling Addiction in support of European Safer Gambling" with the intent of informing the audience about the aspects of gambling addiction. This event was organised as part of Atlas' ongoing Mental Health Awareness campaign held during the month of October.
The webinar, which took place on 20 October, was open for the public and included participants from the iGaming industry, health associations and other sectors. For improved privacy, attendees had the option to join the meeting anonymously.
The webinar was hosted by Atlas Healthcare as part of the European Safer Gambling Week, co-ordinated by iGEN and in collaboration with ICAS. It was facilitated by Sorika De Swardt, the Global Clinical Lead at ICAS International and introduced by Catherine Calleja, Atlas Healthcare's Managing Director.
The webinar addressed behaviours which are linked to addiction that gave better context on how gamblers stumble down the path of addiction. This was followed by an overview of warning signs and signals related to gambling addiction as well as suggestions on the correct means of approaching someone who might have a gambling addiction, as well as the best avenues for support.
"Atlas was pleased to collaborate with European Safer Gambling week on this initiative, which formed part of a month-long programme of events that touch upon aspects of mental health," said Catherine Calleja.
"Through this webinar we focused on identifying and addressing gambling addictions and the harms these could inflict on the person, along with those living and working with them. Through such events we remain committed to provide our employees with an environment that safeguards their wellbeing, as well as doing our bit to help educate the general public as part of our corporate social responsibility programme," she stated.
Atlas Healthcare is proud to partner with ICAS, a global 24/7 international Employee Assistance Programme (EAP), which provides unlimited direct access to psychologists for employees and their families, as well as local face to face counselling, legal and financial helplines and support for HR and line managers.
Atlas Healthcare Insurance Agency Limited (C32603) is authorised under the Insurance Distribution Act to act as Enrolled Insurance Agents for Atlas Insurance PCC Limited. Both entities are regulated by the MFSA. The ICAS Employee Assistance Programme (EAP) is not an insurance product. It is an assistance service exclusively provided by ICAS International Limited and Atlas Healthcare has no direct or indirect involvement in the provision of the service.