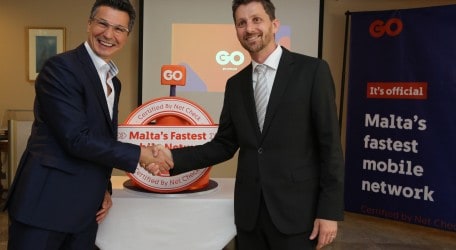 Pictured: Attila Keszeg, GO CEO (left) and Josip Karlo Cindric, Head of Benchmarking & Optimisation Projects at NET CHECK​ at the announcement that GO has the fastest mobile network in Malta
Research carried out by Net Check GmbH, a leading, independent German firm specialising in performance testing of mobile networks (www.netcheck.de), has conclusively shown that GO has the best mobile network in Malta. The research, conducted nationwide, also revealed that GO's mobile internet service is significantly faster than that of any of its competitors.
Net Check's research covered three main areas; network coverage, voice quality, and data quality. Overall, GO came out on top, particularly in mobile internet, where GO's network demonstrated a significant advantage over competing networks. In fact, in urban areas, GO's 4G mobile internet network delivered an average download speed of 85.4 Mbps compared to the runner-up which had an average download speed of 56.8 Mbps. Outside of urban areas, GO delivered an average download speed of 79.0 Mbps, compared to the runner-up which had an average download speed of 55.0 Mbps. These results were based on 6,000 samples of mobile internet service and 2,000 samples of voice service taken simultaneously for each operator over a route covering more than 400 kilometres across all Malta and Gozo.
Attila Keszeg, Chief Executive Officer at GO plc, said, "This is the first ever truly nationwide research carried out by a reputable company into the quality of the mobile networks in Malta and we are of course delighted that GO has been proven to be the best. The fact that GO's 4G network performed significantly better than that of its competitors is due to the fact that GO's network is the only one in the market where the radio base stations, on which the service depends, are all connected with fibre.
The fact that GO has been independently certified as having the fastest mobile internet in Malta motivates us to keep going and increase our momentum. Since December 2016, GO has been in a position to launch 4G+. This service will be activated as soon as the necessary frequency bands are allocated. Going forward, GO is determined to ensure we remain the fastest network across Malta – make no mistake, we are the fastest and we will remain the fastest.''
Net Check's report is available online on their website. The report details the various parameters that were included in the research including, among others, signal strength and coverage, call set up time, call success rates, speech quality, web page download speeds, and file upload and download speeds. The report also explains the weighting Net Check attributed to each category in order to determine the final overall network performance score.
To celebrate being the fastest network in Malta, GO will also be offering all new, renewing or upgrading Pay Monthly customers on either Limitless 1+, Limitless 2+, or Limitless 3+, an additional 10GB of data over and above existing offers for the first 30 days. This offer will be valid until 31 August 2017.