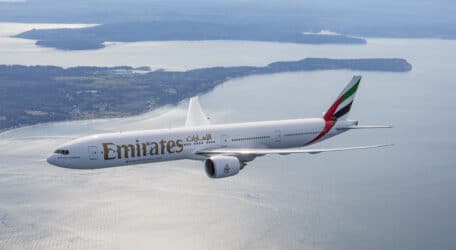 Emirates has announced an exclusive offer for all passengers travelling between Malta and Larnaca, Cyprus on the flight en route to Dubai. In fact, those flying with Emirates from Malta to Cyprus and vice-versa this summer, will enjoy a 10 per cent discount on their fare, for two or more customers (up to nine).
Emirates passengers can take advantage of this promotion by booking their flight to Larnaca from 5 July to 14 July 2021 in any cabin class, for travel from 14July and 30 November 2021. It is applicable for two to nine persons travelling together. Terms and conditions apply.
Emirates will resume three weekly services to Malta via Larnaca, Cyprus, starting 14 July 2021.
Emirates Country Manager in Malta Paul Fleri Soler said: "Choosing the world's foremost luxury airline is now easier than ever, as passengers will also save on their flights. Both Cyprus and Dubai are increasingly popular destination with the Maltese and we delighted to offer our customers this opportunity this summer"
Emirates remains focused on taking various steps to ease travel and has been a leader in introducing initiatives in cooperation with health authorities and organisations to protect the health of customers and to ensure their safety. Emirates introduced measures on the ground throughout all touchpoints and onboard to provide its passengers with the highest safety and hygiene standards at every step of the journey. The airline has also recently introduced contactless technology to ease the customer journey through Dubai airport.
Knowing their safety and wellbeing is looked after, customers across all classes can enjoy more than 4,500 channels of entertainment on ice, the airline's award-winning inflight entertainment system, along with regionally inspired gourmet meals.
Emirates continues to lead the industry with innovative products and services that address traveller needs during a dynamic time. Recently the airline took its customer care initiatives further with even more generous and flexible booking policies, an extension of its multi-risk insurance cover, and helping loyal customers retain their miles and tier status.
As more international destinations begin easing their entry restrictions, Emirates has been expanding its services to provide more choice and convenience for customers who can now plan travel to a growing list of countries across the Emirates network.
Emirates will now operate over 280 weekly flights in July from Dubai to cities in Europe, the US, Middle East, Africa, and other popular island getaways, for travellers who want to start their long-awaited adventures and experiences this summer without the hassle, cost or stress of quarantine.
For more information on entry requirements for international visitors to Dubai visit: www.emirates.com/flytoDubai.
Both Malta and Cyprus are renowned for their beautiful beaches and diverse archaeological sites