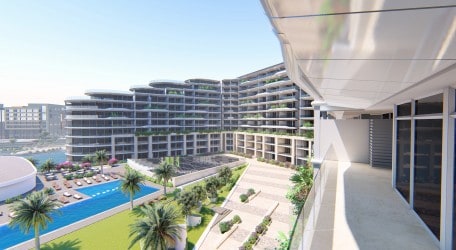 In response to market feedback, The Shoreline Residence Ltd, responsible for the €200 million landmark project on the east coast of Malta, has just released a number of units, including some upper floors in blocks that are already on the market, with totally new layouts.
The news follows the appointment of lighting consultant Franck Franjou from France, acoustic consultant Hann Tucker Associates Ltd from the UK and LEED consultant Greenwich from Italy announced just two weeks ago. 
"Whether it's the exterior with spectacular views from large terraces, beautifully landscaped open spaces, the assortment of community amenities, lighting architecture and toned acoustics, or the interiors with out-of-the-ordinary  floor plans, wide frontages, and a particular attention to detail, including intelligent lighting, walk-in wardrobes, underfloor heating in main en-suites, eco-friendly air-conditioning systems, storage and laundry rooms, or colour video intercoms among several others touches of avantgarde living, nothing is left to chance," explained Ryan Otto, Managing Director at The Shoreline Residence.  
"As other projects are coming up in SmartCity and a constantly increasing number of tenants are committing to a prestigious address at The Shoreline, we are experiencing a further surge in interest from both Maltese and foreign investors. They prefer to buy on plan now as they are buying tomorrow's property at today's price.   On our part, we are offering comfortable payment plans for these ultra-modern apartments that will benefit from strong capital appreciation in the not too distant future. 
Clients are also appreciating the lifestyle advantages of eventually living at The Shoreline including the secure and pollution-free pedestrianized environment in close proximity to the Three Cities which have now become a major leisure destination. For these and other reasons, not least the increasing demand for top-notch apartments for rental purposes, we receive enquiries every day as property investors are adopting the principle of 'buy great property, and wait'," explained Andrew Gatt, Sales and Marketing Manager at The Shoreline Residence Ltd.
The Shoreline will be home to approximately 400 luxury apartments complete with shopping mall, recreation centres, and other amenities, making it the largest private construction project in Malta to date. The mixed-use development is envisaged to bring the excitement of a leisure destination to SmartCity Malta, offering a varied mix of 1, 2, 3-bedroom residences that enjoy spectacular views, landscaped open spaces, and an assortment of community amenities. These apartments enjoy a Special Designated Area Status (SDA), and fully conform to the parameters of the approved 2008 Masterplan for SmartCity Malta.
In January 2018, a pre-qualification process launched by the company for a main contractor with the aim of awarding a design and build contract for the Project attracted responses  from a substantial number of leading engineering and construction firms operating in Malta and internationally.