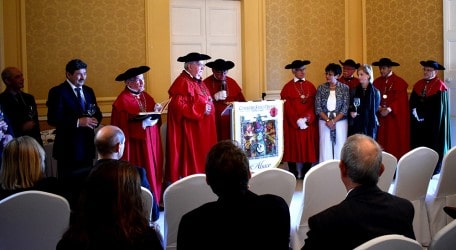 The Confrérie Saint-Etienne d'Alsace, one of the oldest wine guilds in France founded in the 14th century, has just concluded its first official visit to Malta. A number of wine growers from Alsace came to celebrate this historic visit, including members of Famille Hugel, Gustave Lorentz, Charles Wantz and Jean-Luc Freudenreich as well as the current and previous Grandmasters of the Confrérie.
During their visit, the members of the Confrérie visited important historical sites in Malta and Gozo and organized two wine events to promote wines from Alsace: an informal wine-tasting evening at Trabuxu in Valletta and a formal banquet at Palazzo de Piro in Mdina. During the formal event, some members of the Maltese wine and culinary sectors, as well as Deputy Prime Minister Mr Chris Fearne and French Ambassador Mme Béatrice Le Fraper du Hellen, were inducted into the Confrérie.
The Confrérie Saint-Etienne d'Alsace has a long and distinguished history in the service of Alsatian wine. Like most craft guilds after the French Revolution, it went into hibernation in 1848 before being revived after World War II; this year celebrating its 70th anniversary in its new form. Today, the Confrérie headquarters is the Château de Kientzheim, purchased in 1973. The Alsace regional wine museum is housed in the outbuildings, while commented theme tastings, wine education courses and other wine-and-food seminars are held in the Château's official Chapters. The Confrérie's treasure is of course the specially-built wine library or Oenothèque, a unique collection of more than 65,000 bottles of Alsatian wines dating back to 1834, and even one very special bottle of wine from 1472, donated by the Hospices de Strasbourg.
Since its statutes were first established back in 1561, the role of the Confrérie has always been to oversee and guarantee the quality of Alsace wines by awarding its official seal to wines that are selected by blind tasting as exceptional, and to promote Alsatian wine and food culture in a non-commercial and impartial way. Today the Confrérie has around 5,000 members worldwide and is active in many countries, with delegations in 9 countries.
Farsons Beverage Imports Company (FBIC) Limited, a member of the Farsons Group, imports, markets and distributes the range of Hugel wines from Alsace.
###