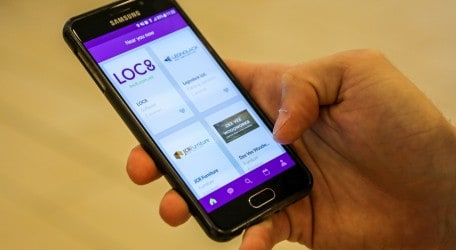 Green Pops Ltd just launched a new mobile App called LOC8 giving users the opportunity to search for any type of business anytime, anywhere. LOC8 App enables the users to quickly search for anything local, be it a business, a shop or even a product with a returning search list based on the nearest location.
During a press conference at The Point Shopping Mall in Sliema, Rodney Testa, Creator of LOC8 said, "We are offering Maltese businesses the opportunity to be part of this digital platform and enabling their consumers to look up all their details and get them to their door through a fast, interactive and user-friendly experience. We already have around 160 businesses which are accessible through the App and we plan to further build on this number by the end of the year."
Through the App, the user will be provided with a full profile page of the business searched for, including details such as contact info, social media links, images and video, as well as an original messaging solution directly within the App. Should the user want to visit the business store, the App can take you right at the doorstep of the searched business. Users can also directly message the business, leave reviews, and mark as 'Favourite' for a quicker find next time round. If a user want to ask something in particular there's also a space within the App for holding community chats between other users. And if you're logged in and happy with search findings, you can just click and share in order to earn points redeemable for vouchers.
Chris Cardona, Minister for the Economy, Investment and Small Businesses commented on how the government is continuously improving their efforts for start-up businesses to achieve their aims. Silvio Schembri, Parliamentary Secretary for Financial Services, Digital Economy and Innovation also said that the Government was strengthening its digital infrastructure, adding that 70% of online products in Malta have been created from start-up businesses.
LOC8 App can be downloaded from the Apple Store or the Google Play Store for free. For further information, visit www.loc8.com.mt or LOC8's Facebook page on www.facebook/com/Loc8Malta.