Pictured above: Borislava Bayyumi and Hilda Boulton
AX Hotels, one of Malta's largest hotel operators, took part in this year's open day organised by the Institute of Tourism Studies (ITS) on Tuesday 7th and Wednesday 8th November. The stand of AX Hotels was among the top five stars and four stars establishments in Malta and undoubtedly this was a good opportunity for interested students to get to know more about AX Hotels portfolio, being one of the leaders in the local tourism industry.
Ms. Hilda Boulton, Human Resources Manager for Qawra Properties and Ms. Borislava Bayyumi, HR Coordinator for Sliema and Valletta Properties, were present at the Industry Student Meet-up held at the Institute of Tourism Studies, representing AX Hotels. Both had the opportunity to promote AX Hotels, as the company has recently expanded its group and now is comprised of seven hotels divided within three locations being, Sliema, Qawra and now also Valletta.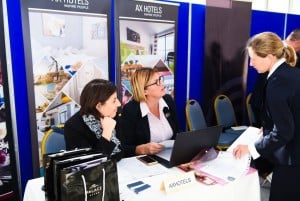 The 5-star city hotel, The Palace, the superior 4-star Victoria Hotel and the 200-year-old Palazzo Capua are all based in the heart of Sliema. In the north of the island, Qawra the company owns two coastal resorts consisting of the self-catering Sunny Coast Resort and Spa and the all-inclusive Seashells Resort at Suncrest. The latest addition has been the new properties in Valletta, being The Saint John, a smart boutique hotel that caters for independent and design-obsessed travellers, whilst Palazzo Merkanti is a brand new 5-star luxury hotel that is set to open its doors next year.
When meeting the students from ITS, Ms Boulton and Ms Bayyumi discussed their studies, and preferred line of work, and where they could see themselves going in their career.  This way they were able to provide them with the right advise, and job opportunities that exist within the AX Hotels establishments, be it Sliema, Valletta or Qawra properties. Indisputably this was an exceptional opportunity for all interested students who are in search for part-time work to complement and enhance their studies.