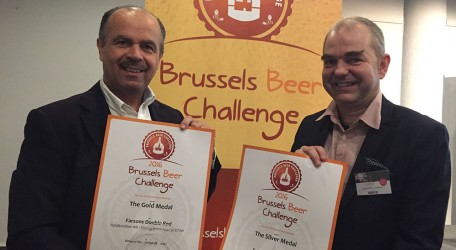 This year's edition of the Brussels Beer Challenge has just awarded gold and silver respectively to Farsons Double Red Strong Ale and Farsons Blue Label Original Amber Ale. The beers, recently launched under the Farsons Classic Brews range earlier this year, are brewed by Simonds Farsons Cisk plc.
Farsons Double Red has been awarded gold in the Pale & Amber Ale: Strong/Extra Special Bitter category while Farsons Blue Label Ale has been awarded silver in the Pale & Amber Ale: Best Bitter category.
Present at the awards ceremony held in Brussels yesterday, 21st November, Mr Eugenio Caruana, Head of Production at the Farsons Brewery, commented, "These awards are a significant achievement and evidence of our brewers' dedication to excellence in quality and unwavering dedication and commitment. We are extremely proud of this result, and our brewing tradition and heritage."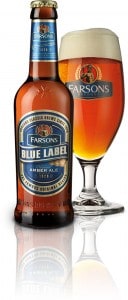 The revamped and extended Farsons Classic Brews range, harps back to the Farsons Brewery's origins in the 1920s. The range includes an enhanced Farsons Blue Label Original Amber Ale, an amber coloured, top-fermented ale, hopped and mixed with a special type of mild malt that gives the richly coloured ale a unique, smooth and mild taste, together with two new additions, Farsons India Pale Ale (IPA), a bitter ale brewed with high quality malt and traditional English hops, and Farsons Double Red Strong Ale, an all malt and full bodied strong ale with a deep ruby color and a pleasant hoppy bitterness, balanced out by a malty and fruity sweetness.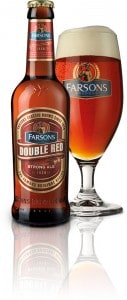 The Brussels Beer Challenge is a global beer competition held in Belgium that provides a unique opportunity for beer producers across the globe to compete with the best international brewers. It was launched on the initiative of Brusselicious as part of the Gourmet Food Year in Brussels in 2012 and is a point of reference for beer enthusiasts and experts.
The fifth edition of the Brussels Beer Challenge took place between the 3rd and 6th November in Brussels, Belgium. Throughout these three days a tasting panel of 75 international renowned beer connoisseurs tasted 1,100 beers from all over the world. The participating beers are divided into categories based on origin, type and style and then evaluated. At the end of the three tasting days, the best beers in each category are awarded a gold, silver or bronze award.