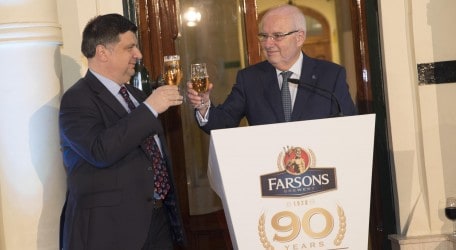 From left: Qormi Mayor Jesmond Aquilina and Farsons Group Chairman Louis A Farrugia
Farsons Brewery celebrated 90 years since the delivery of its first beer, Farsons Pale Ale, in April 1928 to Qormi, for the feast of St George, and marked this milestone with a reception at the Qormi Local Council.
Emphasising Qormi's significance in this milestone, Farsons Group Chairman Mr Louis A Farrugia outlined the historical highlights that, over nine decades, connected the company with this locality. Drawing on similarities between bread baking, for which Qormi is well renowned, and brewing, Mr Farrugia explained that beer is sometimes described as 'liquid bread'. As is the case of the Maltese loaf, the three main ingredients of beer are yeast, wheat and water. Both bread and beer also need time to ferment.
Both Qormi and Farsons went through some challenging times during the last century. Originally, the Farrugia family had established a flour mill and pasta making factory in Ħamrun, but when this mill was destroyed during the Sette Giugno riots in 1919, the factory was changed into a carbon dioxide producing facility, called L. Farrugia and Sons Ltd," explained Farsons Chairman.
Contact was made with the brewing industry through the supply of carbon dioxide, and the Farrugia brothers, on the advice of Luigi's son, Lewis V Farrugia, decided to venture into the thriving beer market. They made the crucial decision of brewing beer themselves in Malta for the first time, rather than importing it. Their first brewery in Ħamrun was a brave and innovative step in the country's economic and industrial history.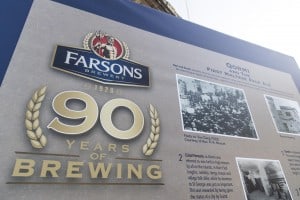 As Qormi developed, so did Farsons. In 1929, brewers H. G. Simonds merged with Farsons, while in 1948, The Malta Export Brewery – who was then producing the popular 'Cisk' Lager – joined Simonds Farsons, and so Simonds Farsons Cisk Ltd was formed.
Mr Farrugia paid homage to his father, Lewis Victor Farrugia, also an architect by profession, who had designed the company's second brewery in nearby Imrieħel. This historic building is today considered a unique part of Malta's industrial heritage. Presently, this brewery building is being re-born as a Business Park of the highest standard, managed by Trident Estates plc. Mr Farrugia also recalled the late Anthony Miceli Farrugia, who took the helm of the company following the untimely demise of Lewis V. Farrugia, and who came up with the idea of an original soft drink by the name of Kinnie in 1952.
"Qormi's motto Altior ab imo ('Rising from below') also mirrors Farsons' story. From a small brewery serving the Maltese market, today Farsons has become a diversified group of companies in the food and beverages sectors with an aspiration to become a leading player in the Mediterranean region, and beyond," explained Mr Farrugia.
To mark this 90th Anniversary, Mr Farrugia announced that Farsons is sponsoring a set of paintings by artist Daniel Scerri. One of these paintings will be used as a First Day Cover when it is published by Maltapost in May. These paintings will be initially displayed at Dar Bjorn in Qormi, and subsequently placed at Qormi Local Council offices.
While thanking Mr Farrugia and Farsons Board of Directors, Qormi Mayor Mr Jesmond Aquilina said: "Our Local Council accepted Farsons' invitation to mark the 90th anniversary as the first beer was first delivered and sold specifically in our locality. This occasion has an even greater significance for us as this year we are celebrating the 275th anniversary since Qormi was declared Citta' Pinto through a decree by Grand Master Emmanuel Pinto de Fonseca. We appreciate and are very grateful for Farsons' generous donation for the community, especially for those who love the arts and culture. We augur that other companies emulate this example by contributing to the community as part of their corporate social responsibility."
Guests at the event also had the opportunity to sample Farsons Gold Label Pale Ale, a special celebration brew, ahead of its official launch in May.