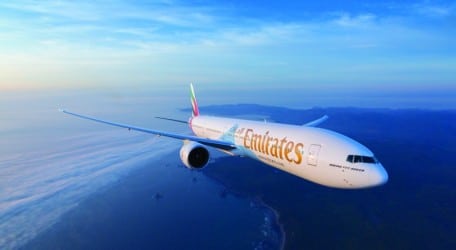 Emirates launched its Dubai-Cebu-Clark-Dubai circular service in the Philippines. A VIP delegation and contingent of international media were aboard the inaugural flight, which carried passengers who had commenced their journeys from nearly 60 cities, ranging from Rio De Janeiro to Stockholm, on Emirates' global network.
"We are confident that our new service will have a positive impact on the development of tourism and trade in the Philippines' regional economies. Furthermore, our extensive global network of over 150 destinations will help enhance connectivity for Cebu and Clark, providing more markets for regional products and additional opportunities for inbound tourism," said Adnan Kazim, Emirates' Divisional Senior Vice President, Strategic Planning, Revenue Optimisation and Aeropolitical Affairs.
"The service will also provide more choice for travellers from the Philippines, who will be able to conveniently connect to 39 cities in Europe, 16 in the Middle East as well as a number of destinations across our extensive network in Africa and South America via one stop in our hub in Dubai," added Mr. Kazim.
Emirates' two-class configured Boeing 777-300ER offers 42 seats in Business Class and 386 seats in Economy.  Passengers travelling on Emirates' Boeing 777-300ER will be able to enjoy the airline's award-winning ice entertainment system with up to 2,200 channels of on-demand entertainment to choose from, including up to 12 of the latest Filipino movies and up to 20 Filipino music channels. Wi-Fi is also available on select B777-300ER aircraft.
Emirates' flights to and from the Philippines also cater to the needs of the Filipino market with Filipino-speaking cabin crew on board, and inflight cuisine options with popular Filipino dishes. As with all Emirates flights, passengers travelling on the Cebu and Clark service will enjoy the generous Emirates baggage allowance of 30kg in Economy Class and 40kg in Business Class. Emirates employs almost 5,000 Filipinos, including over 1,050 cabin crew.
Emirates flights to Cebu and Clark depart daily from Dubai as EK338 at 02:55hrs, arriving at Mactan-Cebu International Airport at 15:50hrs. The service then departs from Cebu at 17:20hrs and arrives at Clark International Airport at 18:50hrs. The return flight departs Clark at 20:20hrs, arriving at Dubai International Airport at 01:20hrs the next day.
Emirates operates daily scheduled flights between Malta and Dubai. Emirates flies twice weekly to Malta, on Mondays and Wednesdays, via Larnaca in Cyprus, and on Sundays, Tuesdays, Thursdays, Fridays and Saturdays the airline operates the Dubai – Malta route on a circular routing via Tunis in Tunisia. The return flight flies direct from Malta to Dubai.
For more information about Emirates and to book tickets, please visit www.emirates.com/mt or visit your preferred travel agent.