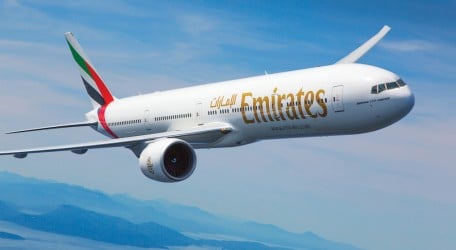 On April 1st, 1986, an Emirates Boeing 727-200 Flight EK800 departed Dubai International Airport touching down in Colombo, Emirates' fourth global destination. Thirty years later, Emirates has logged 56 million miles, transported thousands of tonnes of cargo and continues to connect Sri Lanka to the world, with 34 flights a week to Dubai, Malé and Singapore.
With approximately 12,000 seats and 780 tons of cargo carried per week each way, Emirates' service to Sri Lanka has proven to be an indispensable resource for travellers, exporters and importers over the years. The airline has already announced it will increase capacity further with the addition of a fifth daily flight between Colombo and Dubai from 1st August 2016.
"We would like to thank all our customers and industry partners in Sri Lanka for their long-standing support over the years. We are proud to contribute to the country's thriving tourism and trade industry, connecting Sri Lanka with more than 150 destinations across six continents," said Ahmed Khoory, Emirates' senior vice president, Commercial operations- West Asia and Indian Ocean.
Emirates has recorded solid year-on-year growth in Sri Lanka over the years, carrying nearly four million passengers on the route in the last two and half decades. Sri Lanka has also emerged as an important cargo destination for the airline in the region as Emirates SkyCargo continues to be a preferred carrier for the country's exports.
"West Asia has always been an important growth region for SkyCargo.  When combined with the efficiency of one of the youngest fleets in the skies, unrivalled ground-handling facilities, and the very latest information technology, Emirates SkyCargo is the ideal partner for Sri Lankan-based businesses as they look to boost trade," said Jassim Saif, Vice President Cargo Commercial – West Asia and South East Asia.
Key Colombo exports include ready-made garments, fruit and vegetables, betel leaves, cut foliage and edible fish, with the latter accounting for over 40 % of Sri Lanka's total air cargo tonnage in perishables.
Passengers on Emirates flights from Colombo enjoy the famed hospitality of its multi-national Cabin Crew, which includes more than 150 Sri Lankans, as well as gourmet cuisine and Emirates' award-winning ice entertainment system. With more than 2,500 channels, from movies, television programmes, games, audio books, and music, ice has been named the world's best inflight entertainment system by Skytrax for 11 consecutive years.
Emirates passengers also benefit from a generous baggage allowance of 30kg in Economy Class, 40kg in Business Class and 50 kg in First Class. Passengers travelling in premium cabins enjoy lounge access as well as Emirates' Chauffeur-drive service. All travel with Emirates earns passengers Skywards Miles on the airline's award-winning frequent flyer programme. Accrued Skywards Miles can be redeemed for free tickets, travel upgrades or other benefits.
Emirates operates daily scheduled flights between Malta and Dubai. Emirates flies twice weekly to Malta, on Mondays and Wednesdays, via Larnaca in Cyprus, and on Sundays, Tuesdays, Thursdays, Fridays and Saturdays the airline operates the Dubai – Malta route on a circular routing via Tunis in Tunisia. The return flight flies direct from Malta to Dubai.