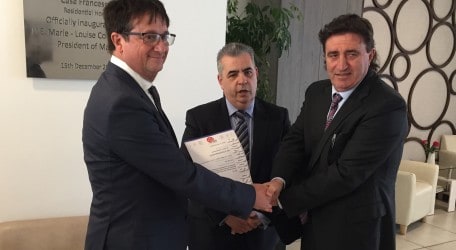 Casa Francesco of Sta Venera, was recently awarded the prestigious ISO 9001:2015 Certificate in the management of residential nursing care facilities and the running of residential homes.
In the rigorous review undertaken over the last 7 months by QS Quality Services Ltd., the company that has carried out the necessary checks and audits prior to the issue of the ISO 9001-2015, Casa Francesco has come out with flying colours. The 77 residents at the Home enjoy the topmost level of care irrespective of the varying levels of dependency.
Mr G Esposito of QS Services Ltd. who presented the certificate to Mr Michael Busuttil, said that the company was proud to award this ISO 9001:2015 certificate to the first Residential Home for the Elderly in Malta and complemented the staff of Casa Francesco on the professional level service that is provided to residents.
The award was made in the presence of the Hon. Michael Falzon, Minister for the Family, Children's Rights and Social Solidarity.