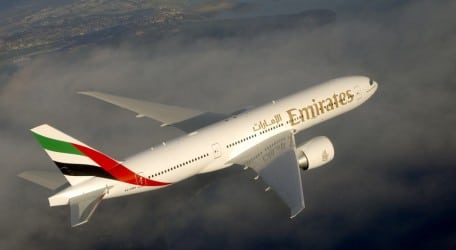 Emirates to use flexible routes and take advantage of tailwinds to achieve flight efficiency
Emirates Airline's first non-stop service between Auckland and Dubai will be one of the longest air routes in the world by distance, but with the assistance of clever technology and good planning, passengers will get to their destination in the shortest possible time.
Emirates will be using flexible routes, which can vary by day, taking advantage of tail winds and avoiding head winds to reduce the time in the air.
This proven technology, combined with the elimination of an en-route stop in Australia, could shorten the time to Auckland by up to three hours. This is not only good news for passengers, but will also result in considerably increased fuel economies – an environmental focus for Emirates.
The airline starts its first non-stop service from Dubai to Auckland on 1 March 2016, bringing many of Emirates' 39 European destinations, as well as 38 cities in Africa and the Gulf within just a one-stop connection in Dubai.
The new non-stop service will be operated by a Boeing 777-200LR and should typically take just under 16 hours from Dubai to New Zealand and 17 hours, 15 minutes in the other direction.
"Emirates continues to invest in innovative technologies, and we utilise best practices in optimising our flight planning systems, finding the best routes that take into consideration weather and current conditions to ensure we save time, fuel and emissions, while never compromising on the safety and comfort of our passengers and crew," said Geoff Hounsell, Emirates' VP Flight Operations Support Services and Air Traffic Management.
New flexible route options have been a focus for the airline and Airservices Australia and Airways New Zealand have been key partners.
The majority of the Boeing 777-200LR flight will be in Australian-managed airspace, where Emirates has worked with Airservices Australia for the past decade to optimise routes, utilising the technology which will be applied on the direct Auckland route.
Airservices Australia safely controls 11 per cent of the world's airspace.
"A number of our air traffic control and environmental specialists have worked with Emirates' flight planning team to help find them the most optimal east and west-bound routes which will link the flight into our existing Flex Tracks and user preferred route (UPR) zones." said Executive General Manager, Air Traffic Control, Mr Greg Hood.
"Airservices Flex Track and UPRs will help Emirates realise significant savings in fuel, reduce its greenhouse gas emissions and reduce the flight time with seasonal and daily variations based on the positioning of jet stream winds," said Mr Hood.
Airways New Zealand chief operating officer Pauline Lamb says air traffic controllers are looking forward to welcoming the Emirates Boeing 777-200LR into the region.
"Emirates will benefit from Airways' capability to offer new fuel-efficient arrival routes into Auckland and a high degree of flexibility using very efficient 'user-preferred routing', including the ability to review and change flight paths during the flight. This will allow Emirates to choose the most fuel and cost efficient routes every time," said Ms Lamb.
The Boeing 777-200LR has the same wing size as its Boeing 777-300ER cousin but can fly up to a range of 8,400 nautical miles with full passenger load of 266 – eight in First Class, 42 in Business Class, and 216 in Economy Class.
The non-stop flight will have a complement of 13 cabin crew and four pilots, allowing for rest periods. Emirates has a fleet of 249 aircraft, including 74 double-decker Airbus A380s and 155 Boeing 777s, among them 10 Boeing 777-200LRs.