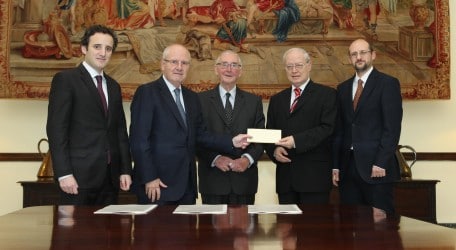 Heritage Malta and The Farsons Foundation together with Simonds Farsons Cisk plc are cementing their relationship by officially formalising their collaboration for the collective benefit of Malta's cultural and industrial heritage. The parties involved have agreed to co-operate and work closely in the set-up process and ongoing operation of the proposed Farsons Visitors' Centre.
The three-year memorandum of understanding (MoU) was signed by Heritage Malta Chairman Dr Joseph Buttigieg, The Farsons Foundation Chairman Mr Bryan A. Gera, and Simonds Farsons Cisk Chairman Mr Louis A. Farrugia.
The agreement underlines the commitment taken by both parties and covers various aspects including support in the planning and design stages of the Farsons Visitor's Centre, guidance on the collection, conservation and presentation of exhibits, and the facilitation of European and international networks related to industrial heritage.
Dr Buttigieg said: "Heritage Malta applauds this initiative undertaken by The Farsons Foundation and Simonds Farsons Cisk to collect, protect and make these elements of industrial heritage accessible to the benefit of Maltese society."
"Our agreement with Heritage Malta will support the state-of-the-art development of the Visitors' Centre envisioned by Farsons while providing conservation, management and restoration of industrial heritage," said Mr Gera.
This is the second MoU embarked by The Farsons Foundation and Simonds Farsons Cisk plc. Earlier this year an agreement was ratified with the University of Malta with the aim of intensifying the collaboration by supporting of a number of grants, the institution of prizes and the exchange of technical assistance. The months long process leading to this collaboration included a one-day conference in 2013 which focused on the diverse approaches in the preservation and presentation of industrial heritage in Malta, and the publication of the conference proceedings in a book entitled Approaches to Industrial Heritage: What works?.
Mr Louis A. Farrugia, Chairman Simonds Farsons Cisk plc highlighted the significance of this agreement. He said: "Our collaboration with Heritage Malta has extended over a number of years and now that we are at the threshold of ushering a new phase in our plans which will eventually lead to a Visitor's Centre at Farsons we are pleased to formalise this collaboration."