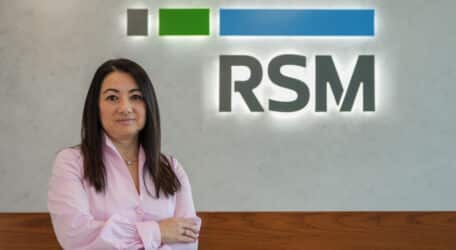 Ms Roberta West Falzon takes on the role of Audit and Assurance Partner
RSM Malta started its year by welcoming Ms. Roberta West Falzon as Partner of the firm as from 1st January 2023. West Falzon has a long history with RSM Malta starting off as an Audit Manager in 2016 and later, in 2021, was promoted to Director and Audit Principal. As from the beginning of this year, West Falzon was appointed as an Audit and Assurance Partner.
West Falzon brings with her over 25 years of experience predominantly in auditing, including working on overseas assignments. She is a certified public accountant and holds a practising certificate in auditing. She graduated with Bachelor of Commerce and Bachelor of Accountancy (Hons) Degrees from the University of Malta and is a fellow member of the Malta Institute of Accountants. Subsequently she was also awarded the ACCA Diploma in International Financial Reporting.
West Falzon has significant audit experience and leads several audit engagements for national and international clients operating in different industries, including the audits of large groups and listed entities. Her experience covers various industries such as gaming, financial services, energy, manufacturing, retail, construction, property, and hospitality. She also delivers technical and professional training both in-house and outside the Firm. Moreover, West Falzon sits on the Malta Institute of Accountants Financial Reporting Committee and was part of the Malta Institute of Accountants' Financial Reporting working group involved in the drafting of local guidance on fiscal consolidations and is now part of the Sustainable Finance Reporting working group.
RSM Malta's Managing Partner George Gregory congratulated West Falzon on her new role within RSM Malta. "It is always with pleasure that we continue growing our team of Partners and welcoming onboard competent and hardworking individuals that sustain the values of the firm. We understand that the firm's success is owed to its hardworking team members, particularly those who take the time to develop their skills to continue excelling when fulfilling their role. It is with great joy and pride that I welcome Roberta West Falzon to the team and I look forward to seeing how we can work together to continue growing this international firm's presence in Malta," said Gregory.
Commenting on her recent appointment, Ms. West Falzon said, "I am very excited and humbled by RSM Malta's trust in me throughout the past years, leading me to this very moment. I take on the role and all the exciting challenges that it will bring along with it with a whole lot of energy and look forward to being able to contribute my expertise and knowledge to the firm."
RSM Malta is a member of RSM International; a worldwide network of independent professional services firms, providing audit, tax, and specialist advisory services to ambitious growing organisations around the globe. RSM International is represented by 128 member and correspondent firms in 123 countries. The combined organisation has over 51,000 professionals in more than 860 offices.
For more information, visit https://www.rsm.global/malta/