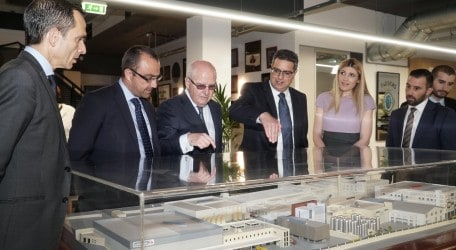 Chairman Louis A Farrugia with Dr Adrian Delia, Group Chief Executive Norman Aquilina, the Hon Karl Gouder, the Hon Kristy Debono, Ivan Castillo and Ing Mark Anthony Sammut
Over the last 10 years, Farsons has invested just over €100 million in new facilities to ensure that the company remains competitive, and to grow its business in Malta and other markets.
Farsons Group Chairman Mr Louis A. Farrugia was speaking during a visit to Farsons Brewery in Mriehel by the Leader of the Opposition Dr Adrian Delia. He was accompanied by the Hon Kristy Debono, the Hon Karl Gouder, Ing Mark Anthony Sammut, Mr Ivan Castillo, and other officials.
Dr Delia toured the Brewery operations and viewed the many new investments that have taken place. He was able to observe the high degree of automation and high-quality standards that the operation maintains.
Farsons has always endeavoured to implement good human resources practices. In this regard, Farsons has ongoing training and re-skilling programmes for its 800-strong workforce to ensure that its management and employees are competent to meet tomorrow's challenges.
"As we celebrate 90 years of brewing in Malta, we are indeed grateful to our community for the support that we have always received throughout our history. We shall endeavour to continue to grow our business in new markets," said Mr Farrugia.
Just as Farsons' 1950 Mriehel Brewery was a groundbreaking workplace in many ways, to the point that today it is considered a unique part of Malta's industrial heritage, the new working environment that Farsons has created over the last years continue to set standards for the future, while offering motivating work spaces for all employees.