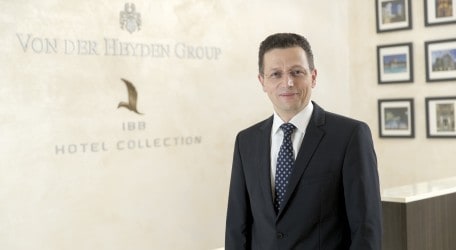 45-year old Thorsten Sander has been named general manager of Cugó Gran Macina Grand Harbour which will open its doors on 1st December 2017 in the historical city of Senglea. In his last appointment, Mr. Sander managed Hotel Nassauer Hof in Wiesbaden (Germany), one of the leading German Grandhotels.
Vladimir Saal, CEO of IBB Hotel Collection, said: "Thorsten Sander has a wealth of experience in the hotel sector, having worked in a number of hotels in Germany and the United States. We are sure that the opening and management of the bespoke Cugó Gran Maċina Grand Harbour will be a great success under his leadership."
The upcoming new opening is yet another milestone in 2017 for IBB Hotel Collection as the hospitality company continues to expand further in Europe. Their latest accommodation combines an evocative history, a unique harbour location, spectacular views and the very best in modern luxury. In this way, Senglea's iconic Macina Bastion has come back to life as an exclusive Cugó Gran luxury accommodation following an intensive 18-month restoration and renovation process. Apart from being part of the IBB Hotel Collection, which operates hotels under lease, management and franchise contracts with three different own brands: Cugó Gran, IBB Hotel and IBB Blue Hotel. Cugó Gran Maċina is the first member of Design Hotels from Malta.
For centuries, since it was built in 1554 during the reign of Grand Master Claude de la Sengle, the Sheer Bastion has been one of the Grand Harbour's most renowned landmarks, deriving its name 'Macina' from  the large sheer crane structure ('macchina'), used to hoist  heavy masts and other cargo, which was eventually dismantled in 1864. Now, once again, the Macina is set to be a landmark of a different class, a luxury boutique accommodation that will be a showpiece within the historic Cottonera seafront.
Offering 21 suites with high vaulted ceilings and ample natural light, ranging from 40 square metres to an impressive 130 square metres, all decorated in a minimalist style to create a luxury environment, the Cugó Gran Macina has been truly transformed into an inspiring accommodation with a difference. Blended with bespoke interior design and luxury features, all rooms have unobstructed views of the Grand Harbour and the surrounding marina against a backdrop of historical fortress walls.
Mr Sander said: "Our suites have been designed with the discerning traveller in mind, having all amenities available in-room to make their stay all the more comfortable and inclusive in a uniquely historic yet luxurious setting. No expense has been spared to achieve this level of luxury. We strongly believe that the Macina historic building has now regained its former glory it enjoyed in past centuries and will live again as an integral historical part of Malta's majestic Grand Harbour. We shall endeavour that every guest departs from Cugó Gran Macina with a great experience of hospitality lived in a truly historical setting."
Overlooking the Three Cities with views extending as far as Valletta, the rooftop terrace has been tastefully converted to accommodate events for up to 1,000 guests, offering an ideal venue for weddings, special events and corporate functions. A guest swimming pool is also tucked discreetly on the annex building rooftop overlooking the picturesque view of Vittoriosa and Cospicua. The Cugó Gran Macina offers a restaurant and a bar, operated by the well-known and award-winning Maltese restaurateur Chris Hammett and his team, also catering at the rooftop terrace. One board room for small meetings and conferences completes the wide range of services.
The inspiring, bespoke and bold IBB Hotel Collection is a subsidiary of Von der Heyden Group, a developer and investor based in Malta.  Currently operating 11 hotels in Germany, Poland and Spain, the group has ambitious growth plans for the upcoming years. The group is currently constructing an own asset in the historic city centre of Gdansk (Poland) under the IBB brand, namely IBB Hotel Dlugi Targ.