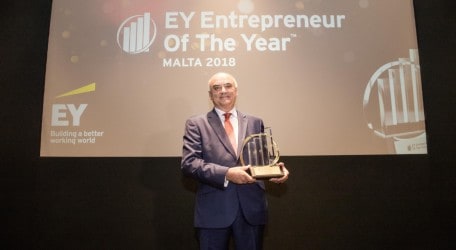 Mr Angelo Xuereb, chairman of AX Group has been awarded the EY's Malta Entrepreneur of the Year award. This makes Mr Xuereb, the second Maltese person to achieve this prestigious award.
This well-deserved award is proof of Mr Xuereb's hard work and determination. Throughout the years. Mr Xuereb demonstrated an inclination to business from a very young age. His success is based on four simple, but meaningful words – Creativity, Efficiency, Challenge and Determination. His business interests range from tourism, construction, property development, restoration, project management, real estate, healthcare, quarrying and sea terminal operations.
Mr Xuereb claims that 'Entrepreneurship is the seed of tomorrow's growth. Determination is the sweet and sour of success. I want to take this opportunity to thank everyone involved in recognising my hard work and all the dedication that I, together with my team, have invested into the business'.
This award will take Mr Xuereb to Monaco in June and he will represent Malta to compete in EY's World Entrepreneur of the Year award together with other business leaders from over 60 countries. These leaders, selected from over 5,000 nominees worldwide, will be competing for the final grand award. Previous winners of the award include entrepreneurs from big enterprises such as Amazon and LinkedIn. With the appearance of this award in 1986, EY has created a global network made up of 50,000 entrepreneurs, all connected by their business-mindedness and their will to succeed.
All the best of luck goes to Mr Xuereb for this next challenge. ​