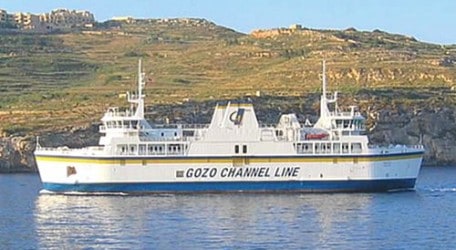 This article first appeared on Malta Today –
UPDATE: Since this was published, the people behind the bomb threat hoax have been identified and arraigned in Court 
On Tuesday morning, shortly after 11am, the Police received an anonymous call that a bomb had been planted on the Gozo Channel ferry.  According to reports, it took three and a half hours for a full evacuation to take place and for the Armed Forces explosives division to cary out the required searches on all the vehicles on board or waiting to board, while all the trips were temporarily suspended.  I am not disputing why it took this long, because obviously such a phone call has to be taken seriously by the authorities and all precautions have to be taken. 
Thankfully, it turned out to be a prank, but there has been no mention at all of trying to trace whoever made this call which affected so many people, causing not only anxiety and worry, but incredible traffic congestion, frazzled nerves, the loss of appointments and possibly even flights.  Does this mean that anyone can potentially carry out a bomb hoax and there are no repercussions (or so it seems)?  If attempts to trace the call were made, this falls within the realm of the private citizens' right to know. The public's mind needs to be set at rest not only because of the inconvenience, but because of the real risk and danger of creating mass panic in a crowded place. So when one hears absolutely nothing, and no follow up of any kind is made public, the question marks start to form and loom large over our heads, much like they do in cartoons. 
As if this was not enough, the following day, Wednesday, the service was working with only two boats, because the largest ferry, the Malita V, which takes the most cars, was out of action, leading to even more justified grumbling and complaining about the long queues.  Commuters were reporting a waiting time of up to one hour. 
Now as a nation, queuing for the Gozo ferry is par for the course and I would say is also part of the Gozo experience. On a public holiday which falls either at the beginning or the end of the week, many take the opportunity to hop on over to the sister island for a long weekend, so at those times, queues are expected. Santa Maria in August as well as Easter are also times of the year when those with an aversion to crowds and queuing know well enough to stay away from Cirkewwa.   But having long queues mid-week at this time of year because of maintenance seems a bit off (and why do maintenance now in Spring, when more people cross over because of the good weather?).  
Despite all this, I probably would still not have thought much of these two incidents had the Gozo Chamber of Commerce not chosen to issue a press release which said that "the large number of cars crossing over between the two islands are causing long queues and are a waste of time for those who need to travel regularly because of work or appointments." Well with 33 new vehicles on the road every day, this is hardly surprising, but I found the Chamber's concluding statement rather curious,  "the time for discussion has passed and the time has come to take action."
My curiosity got the better of me, so I googled a couple of things, and guess what? Last October following the announcement of the budget proposals, specifically under the section discussing the Gozo tunnel, the Gozo Chamber was reported as saying that "it hoped geological studies on the tunnel would soon be completed."
It is a well-known fact that there are two camps which are equally divided between those who want the Gozo tunnel and those who do not.  The pro camp cites the need for better, more reliable access between the two islands, which will not be affected by ferries breaking down, long queues or inclement weather. Having a tunnel, they argue, will mean that an unlimited number of cars can cross over to Gozo, with no need for any waiting time as the ferries shuttle back and forth.  This argument, however is not factoring in that there will still be a certain amount of waiting time which will inevitably occur as traffic jams will no longer be simply limited to the road leading to Cirkewwa, Malta and and that leading to Mgarr, Gozo but will literally span the channel between the two islands.   
If you thought being stuck in traffic at rush hour on Regional road was bad, can you imagine the sensation of being trapped in traffic in a tunnel…underwater?   No thanks.  
I guess you've figured out by now that I am firmly on the other side of the fence. I don't like the idea of a tunnel at all for various reasons: the havoc to the environment, the destruction of marine life and mostly because the natural beauty which is Gozo and the reasons why people enjoy living and taking mini-breaks there will be forever lost.  I realise that at the real heart of the matter are the students and employees from Gozo who have no choice but to make the daily crossing, no matter the weather, no matter how rough the sea is.  But hasn't living in Gozo always presented a logistics problem for Gozitans because of their career and their studies? It is not like this is anything new. It would make more sense to invest in new, additional ferry boats to prevent the service going down the tubes every time a boat requires maintenance. The bottom line is that I really do not think that a tunnel is the way forward because it will simply ruin our collective quality of life even further.  
Following a viability study carried out a few years ago, a tunnel building expert from Norway was consulted. According to the TVM report, "Professor Einvin Grov, an expert who took part in underwater tunnel excavations in many countries, spoke on the effects these tunnels had in Norway, such as the tunnel between the town of Trondheim and the Hitra island with a length of five and a half kilometres. He said that as a result internal tourism increased with more Norwegians buying holiday homes in these islands, while periphery islands that were joined with tunnels, also experienced tourism growth."   (Oh, and just in case you were wondering the above study was commissioned by Transport Malta and…the Gozo Chamber of Commerce.) 
The question is though, does Gozo really need more tourism or more people buying and building property there? Or do we have our hearts set on ruining that island too, now that Malta is practically ruined?  
If you think I'm exaggerating let me simply quote Transport Minister Ian Borg himself: "the tunnel will be around 12 kilometres long with a 70 metre squared section.
With a lane on each side and another emergency lane, everything indicates that this tunnel will be able to hold 6,500 vehicles per day in both directions."
Just let that number of vehicles sink in for a moment and picture the traffic jams in Gozo as it tries to cope with this influx of vehicles. And just think of the chaos in the tunnel if there is ever a traffic accident. 
What I do agree with is that Gozo needs a fast ferry service (preferably one which takes you straight form Marsalforn to Valletta), so it was good to hear that an agreement was reached last month to provide this service. Unfortunately, this contract is already mired in controversy because the company which won the tender (Islands Ferry network) is being accused by its competitor (Virtu' Ferries) of not having any experience and of only registering itself as a company a short while ago.  Which means the whole thing will be stalled as it is now tangled up in a legal dispute.
Meanwhile, as this is being sorted out, people will continue to head towards Gozo, battling the queues in their determination to get away. Perhaps I am being too overly suspicious, but I just hope we won't keep hearing about more bomb hoaxes and more ferries breaking down, in order for public opinion to be swayed in favour of the tunnel.