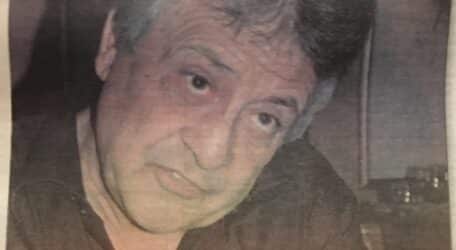 Sammy Galea has had a long, happy association working with the Phoenicia hotel, so it is not too surprising that he chose the Pegasus restaurant. The staff treat him like an old friend, which he is, and he is likewise affectionate towards them, pointing out to me that Doreen (his wife)'s choir sang at the wedding of one of the waiters.
Elegant as ever, the Pegasus is decorated in soft, muted colours, giving it a relaxing ambiance. Specialising in Mediterranean cuisine it is popular with business people as well as those who want a quick lunch just outside the capital.
Sammy is a reserved, soft-spoken man who does not go around flaunting his talents. In fact, he is probably one of the most low-key people I have ever met. He has come prepared with carefully written notes because he wants to make sure not to forget any of the people with whom he has worked.
His interest in the piano was sparked as a young boy when he saw a relative of his, on a visit from England, playing the instrument. He insisted with his parents that he wanted to take up the piano as well but they weren't too encouraging, wanting him to focus on his schooling instead.
"But I didn't like school very much and I finally convinced my father to let me study music."
He began learning the piano at the age of 13 studying under Joseph Formosa, and then continuing under Mro Albert Manche. Recognising his talent, the latter encouraged him to further his studies in Rome and later in London. It was here that he discovered his love for jazz music, studying under such famous names as Stan Tracy, Bill La Sage and Jimmy grant..
Typically self-effacing, he brushes away any suggestion that all this was quite a feat in those days.
"I was a late starter actually, 13 is considered a bit 'old'; it would have been better had I started at the age of 6," he adds.
As much as he likes to play down his achievements, the fact is that by the time he was in his mid-20s, he was playing the piano professionally on cruise liners such as the Queen Mary, and seeing the world.
Surely this was a first for a Maltese musician?
"Yes, I was one of the first I suppose," he acknowledges grudgingly with his shy smile.
"The place I enjoyed visiting the most was South America, countries like Brazil, Chile, Argentina, Columbia. The last place I saw before I got married was New York. When you settle down, you have to choose between one thing and another, and I couldn't go on travelling like I used to."
He admits that at first, staying in one place after all that travelling took some getting used to, but then when he speaks about his wife Doreen (herself a singer) and his three sons, Dominic, Ben and Manolito, it is obvious that he has no regrets.
His passion for music always had a pragmatic edge – while he loved jazz, he reasoned that by knowing the basics of classical music, he could earn his living by working in a hotel. Which is how the Phoenicia came into the picture.
"I've been here since 1972," he says proudly. "I really appreciate the way the management and staff have always treated me with such respect. I can keep performing here until I die, as long as they want me, that is. I'm so content here; I feel like I'm a part of the furniture. The guests always ask for me too, 'where is Sammy?' and I try to remember most of their faces as well. This is such a good hotel that the same guests keep returning year after year and they love it when you recognize them."
From working every night, Sammy has 'slowed down' and now only plays four nights a week.
"That's enough for me, we're getting older now," he smiles.
He tells me the story of how he came to join the hotel. At the time, Sammy had just returned from England where he had been offered a very good job as a pianist with a nightclub specialising in Spanish music.
"When I went for the audition, I saw a man reading a newspaper but didn't pay much attention to him. There was a woman who was taking care of the auditions and she asked me to read some music, it was a passo doble, and I played it for her. After I finished playing, the man reading the paper got up to shake my hand and told me that he was the band leader and that the job was mine. Of course I told them that I had to go back to Malta to consult with my wife first."
Taking up that post would have meant uprooting the family, something that Doreen wasn't too keen on. While he was mulling over the decision, the offer to join the Phoenicia came along and that was that.
"I had to give the people in England some kind of excuse. By that time my mother, God rest her soul, had already passed away, so I told a white lie and told them my mother was very ill and I had to stay in Malta. They were very disappointed and told me that the offer would remain open for me just the same. Of course I never went; I stayed here instead."
It is a happy coincidence that the Phoenicia also happens to be in Floriana, Sammy's beloved hometown (the part known as Il-Balzunetta) where he still lives today.
Talk of his wife Doreen leads me to ask him how important it was that she, too, was in the music business.
"Ah, Doreen, she has helped me so much in my career! To be honest, if it wasn't for her, I would never have started composing. Before I came back to Malta, I just used to study and play the piano. Just after we got married, song festivals started becoming popular, and she suggested I write something, but I wasn't very interested. Then she remembered that I had written some instrumental music a long time ago and offered to write the lyrics for me. We sent it in and placed second or third, something like that. That's how I started; it was all thanks to Doreen. Of course then I started writing songs for her as well so we have always helped each other that way."
In 1998, he attended a course in jazz music in the US, paying for it himself.
"It was a lifelong dream, something I had always wanted to do. I was old you know, over 60, but I managed to pass the exams," he adds with quiet satisfaction.
Sammy still studies to this day, believing that you can never learn enough when it comes to music. Money has never been his main motivation ("If I earn a pound, I'll spend half of it the same day") but it's the love of music which keeps him going.
We talk about the recent International Pop Music Festival for Children in Romania, in which Sammy's compositions won the top four prizes. He is always careful to credit the lyricists with whom he works.
"When I speak about my songs winning I have to mention Julian Joe Farrugia who wrote the lyrics, because it was a joint effort after all. We work very well together. These days I prefer writing songs for children as I feel there is a lot of new talent that needs to be nurtured. If you have good singers like Danika and Vanessa, they can even sing songs which are more complicated so I try and write something which will show their ability. I can use harmony and different chords, as I would do for an adult singer. Without good lyrics and a good arrangement the singer cannot express himself well."
His 1975 Eurovision entry Singing this Song, sung by Renato was one of the highlights of his career, and he speaks of it with fond nostalgia.
Although he is reticent about going into the reasons why, Sammy says that the Song for Europe festival doesn't interest him much any more. Not that you can blame him, as he is kept busy enough with international festivals, and has even been asked to be a judge. Interestingly enough, he was also a judge at the recent Romanian festival.
How does that work, I wonder, when here in Malta the choice of judges is often a matter of life or death?
"All the judges had songs in the competition, so it is not considered strange at all. I gave my own songs quite low marks, because that is how I am, although other judges didn't do the same with their songs. On the whole, however, everyone votes quite fairly."
One festival has led to another and Sammy speaks fondly of not only his songs, but of the children who have represented Malta: such as Christian Grech from Munxar, Gozo, who placed first in Macedonia last year. He speaks about placing first or second, or winning for best composition in a way which is casual but completely devoid of any boasting.
"I don't like to show off, but yes, I've always won something," he agrees shyly.
His golden touch is there even in local children's festivals, some of which he has won year after year. There was a particular festival in which the winner used to receive a mug.
"I have ten of those mugs," he says with a smile.
The other composers must be alarmed when they see his name on the list.
Sammy Galea seems embarrassed to be talking so much about himself, and when our lunch arrives he looks almost relieved.
He doesn't eat much, and ordered a plain chicken breast with vegetables. I had the chicken tagliata, which is a stir-fry with green peppers and balsamic vinegar, topped by slices of Parmesan.
As we resume our talk, Sammy says that another highlight in his long career was when Francis Ebejer, the renowned playwright, asked him to compose music for his film An eye to reckon.
"I told him to let me watch the film a few times, and then I watched it again and started playing some notes on the piano at the same time. Then I recorded some sounds using pebbles and Francis immediately liked it. We sent it abroad and it won an award."
As someone who has a portfolio of over 500 songs to his credit, I ask Sammy whether he ever writes songs purely for his own enjoyment and not for competitions.
"Yes, but then after I listen to it, I usually don't like it, so I either tear it up or just leave it there. I try to write something every day but I don't always manage it because it depends on my mood (skond il-muża). Sometimes I wake up early in the morning and I think; yes, now I can write something. I probably write about four or five times a week."
Following in his father's footsteps is Dominic, another well-known composer.
"He's very good, very talented, he's just received another diploma, I take my hat off to him," Sammy says. It was with Dominic that he wrote the first Maltese children's musical called Il-Hanut tal-Gugarelli, with lyrics written by Charles Mifsud.
"Charles' wife Iris wrote the lyrics for Singing this Song," he points out, referring to his notes.
Sammy's other two sons are also involved in music and have succeeded in their field; Manolito has his own recording studio, while Ben is a drummer who plays with Ira Losco's band.
"I guess it's in our blood, we've never done anything but music."
Last year, around this time, Sammy and Doreen became grandparents for the first time when Manolito and his wife had a baby girl.
"You can imagine how crazy Doreen is about her; she's the first girl in our family after all! Me too, of course, we just adore her. It's better than winning the lottery when there's a new baby. She is so intelligent for her age, she's already trying to dance and sing. I hope she turns out to be a singer…"
As for his own future, Sammy says he will continue to play as long as God keeps him in good health.
"As long as my fingers are still good, I will keep playing the piano. There's no age limit for me. Music keeps me young – I enjoy today's music too, singers like Britney Spears, Anastasia and Shakira. Music is not only my work; it's my hobby."