Josette and Kenneth Frendo founded the Smiling With Jerome initiative on 6 October 2017, the day that their 20-year-old son Jerome died after battling bone cancer for nearly four years.
Their mission is to provide support, assistance and compassion to individuals who are passing through difficult times with particular emphasis on those families who have been diagnosed with cancer and families whose kids have severe disabilities or conditions.
The Foundation also forms part of Malta's National Cancer Platform.
For the first time in Malta they have launched a new initiative called CHEMO BAGS OF HOPE.
These are bags given to cancer patients of all ages at SAMOC (Sir Anthony Mamo Oncology Centre). The patients are referred to the Foundation by Malta Hospice and they will soon also start giving the bags to cancer patients at Gozo General Hospital. These bags are filled with items to help patients get through the long hours of treatment. Each bag is lovingly filled with hope for its recipient.
All items in the bag are especially prepared for each cancer patient.
What's inside the woven bag: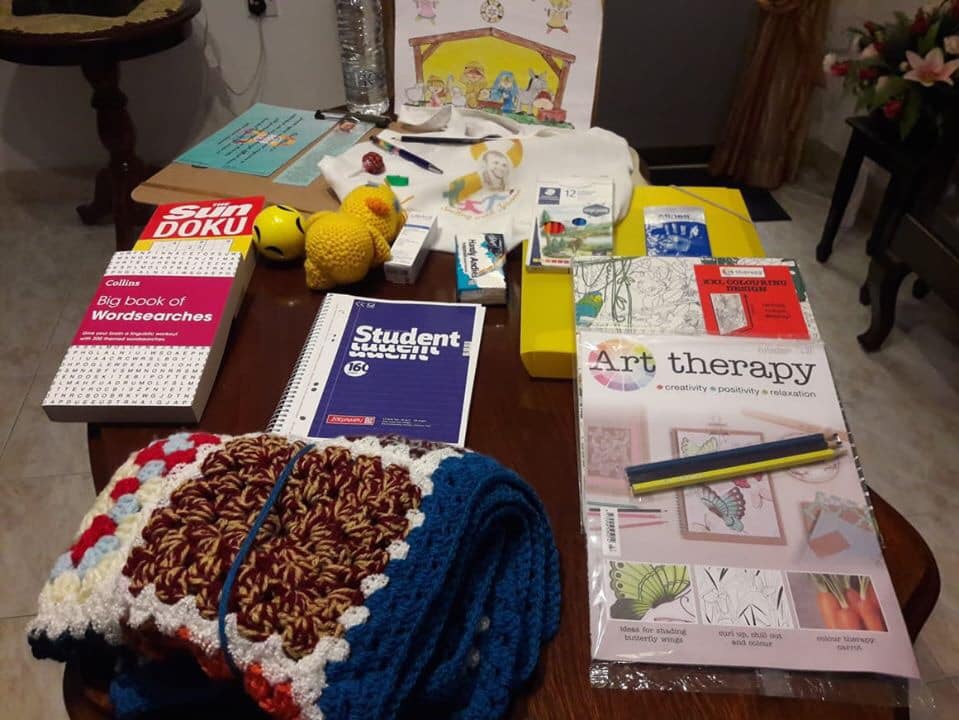 Lap Blanket; Colouring Book; Puzzle Book / Art Therapy Colouring Book, Stationery; Colouring Pencils; Note Book, Hand Sanitizer, Tissues, Mouthwash (Alcohol Free), Lip Balm, Lollipop, Folder, Water, Stress Ball, Clip Board and Toys (for the young ones).
While medication is very important for a cancer patient the Frendos also believe that these items will help a patient have good mental health, well being, positivity and relaxation by giving every patient some tender loving care.
Each bag has €50 worth of items but will continue to be given for free to all cancer patients in Malta and Gozo.
As the Foundation does not have any funding from the Government and cannot do marathons on TV, it depends on families and companies to help.
As new cases are diagnosed every day, it need lots of funds to help every cancer patient.
For this reason, the Smile for Jerome Foundation is organising an art exhibition spanning a weekend from the 31 July – 2 August at Paradise Bay Hotel, Mellieha. There is no entrance fee.
There will be 15 artists displaying their works of art and some of their proceeds will be given to the Foundation to continue with the Chemo Bags of Hope Initiative. Each painting sold will also include free vouchers to encourage more buyers to take part.
The artists who are taking part are:
Isabel Warrington
John Victor Borg
Carmen Vella Gauci
Mark Schembri
Joanne Fenech Portelli
Norma Cili
Anthony Vella
Madeleine Vella
Karm Serracino
Shawn Carl Agius
Sara Scerri
Francis Galea
Nancy Abela
Diane Agius
Marika Borg
The Procession – Isabel Warrington

Porta Reale – Mark Schembri

Strada Teatro – Mark Schembri.

Petite Mort – Nancy Abela

Petite Mort II – Nancy Abela

Diversity – Anthony Vella

Textures and More – Anthony Vella

Trust – Carmen Vella Gauci

Hope – Carmen Vella Gauci

Valletta street scene – Diane Agius

West coast sunset – Joanne Fenech Portelli

The silent city – John Victor Borg

Sharing is caring – Madeleine Vella Satariano

Munxar cliffs – Marika Borg

Qbajjar Salt Pans and Qolla l-Bajda – Norma Cili

Meeting the golden sand – Shawn Karl Agius

The Dance of Salome. – Carmel Serracino
Those who would like to make a donation can do so by using one of the following methods:
Make use of an Internet Bank Transfer through IBAN MT 30 VALL 2201 3000 0000 4002 5276 992 or
By sending a cheque payable to SMILING WITH JEROME and address it to 43, 'Kyrios', Triq ir-Rand, Attard ATD1300
Through their website www.smilingwithjerome.com. Please provide your address if you wish a receipt if you will be using this method or
By using REVOLUT on 99430240. Address will also be needed to send a receipt if you are using REVOLUT.