Event marks opening of European Researchers' Night – Science in the City 2018
Four university researchers have received grants amounting to €60,000 from the University's Research Fund in the selected categories of Life Sciences/Medical/Health, ICT/Engineering/Built Environment, Natural Sciences/Economic/Management/Accountancy and Art/Humanities/Social Sciences.
This was announced during the inauguration of the 7th Science in the House exhibition at the Parliament Building in Valletta. This exhibition is being hosted by the Speaker of the House of Representatives, Hon. Dr Anġlu Farrugia, who together with other Members of Parliament,  met research scientists today. 
The event marks the opening of the European Researchers' Night—Science in the City being held tomorrow in Valletta from 6.00 pm onwards. Celebrating the European Year of Cultural Heritage and Valletta's European Capital of Culture, the 2018 theme is "Science is Culture".   
Science in the House, a signature annual event brings together scientists and politicians under one roof, is a media forum this year showcasing 16 scientific research projects at the University of Malta and elsewhere in Malta. 
Other science topics on display include electromagnetic medical technologies, monitoring earthquakes, marine microalgae and climate change, renewable electrical energy, computer design of new drugs and cancer detection and treatment, conservation of old manuscripts and more.
Organised by the Malta Chamber of Scientists, the University Research Trust (RIDT) and the European Researchers' Night—Science in the City consortium, the exhibition will remain open at the Parliament Building until Saturday 6th October being Notte Bianca.  
Science in the City is supported by the European Commission's Research and Innovation Framework Programme Horizon 2020 (H2020, 2014–2020) by the Marie Skłodowska-Curie actions. It is being held in partnership with Valletta 2018 Foundation, Parliamentary Secretary for Financial Services, Digital Economy and Innovation, MCAST, JUGS Ltd, Studio 7, BPC, GSD Marketing Ltd, Aquabiotech Ltd, MEUSAC, PBS, Spazju Kreattiv,Valletta Local Council, Pjazza Teatru Rjal, Notte Bianca, Melita, More or Less Theatre, Transport Malta and Arts Council Malta .
The programme can be viewed on  www.scienceinthecity.org.mt or follow the festival on Facebook for regular updates:   www.facebook.com/ScienceInTheCityMalta.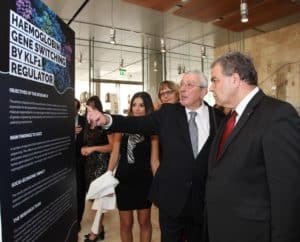 The award winners of the four projects are:  Dr Albert Gatt, Director of the Institute of Linguistics and Language Technology for their project "Maltese Speech Recognition" in the thematic area of Engineering and ICT.
Dr Nikolai Pace and Prof. Josanne Vassallo from the Faculty of Medicine and Surgery for their project entitled 'Characterisation of atypical non-autoimmune diabetes mellitus in the Maltese Islands' in the thematic area of Life Sciences, Medical and Health Science.
Dr Odette Vassallo, Director of the Centre for English Language Proficiency for a project creating a national framework of student competence in English in bilingual Malta in the thematic area of Humanities and Social Sciences.
Dr Adriana Vella from the Department of Biology for her proposal entitled 'Developing Innovative Tools to aid Accurate Monitoring for Biodiversity Conservation in Malta (BioCon_Innovate)' in the thematic area of Natural Science.