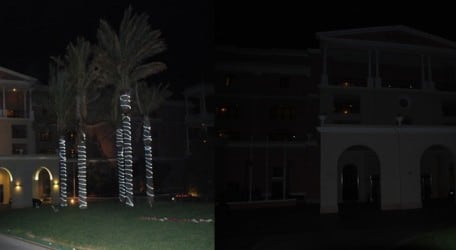 The Westin Dragonara Resort will once again be participating in Earth Hour, this Saturday March 29th at 8.30pm.  Famously started as a lights event that has swept rapidly across the world involving over 7000 cities and towns and over 154 countries and territories, Earth Hour is evolving itself to further empower a legion of supporters to help protect the planet through Earth Hour Blue – an all year round crowd funding and crowdsourcing platform for the planet.
Much of the success of Earth Hour has so far been fuelled by the global mobilisation of people across the world taking part in the lights off event, which will be held this year on Saturday March 29, 2014 at 8.30pm (local times).
This year The Westin Dragonara Resort will be activating a range of energy-saving measures during Earth Hour.  The Westin Dragonara exterior signage lighting will be turned off; dimming and turning off non-essential interior lighting; using candlelight in appropriate public areas such as restaurants and bars; and using in-room television messages to inform guests about Earth Hour observances will all be adhered to this Saturday.
"Earth Hour is just one of the initiatives taken at The Westin Dragonara to sustain the environment," said Mr Michael Kamsky, General Manager at The Westin Dragonara.  "It also reflects a philosophy we try to practice year-round:  The small steps each of us take can make a big difference together. At The Westin Dragonara we have implemented a number of activities to reduce the resort's carbon footprint such as offering Sustainable meeting packages, the 'Make a Green Choice' programme for our guests as well as investing in energy saving lighting and equipment. All these initiatives work holistically and continue in improving our position as being a certified Eco Friendly Resort. "
This is the sixth year in which Starwood has participated in Earth Hour.  Last year's incredibly successful event included participation of nearly 600 Starwood hotels globally. In 2013, hundreds of millions of individuals participated in the biggest Earth Hour to date creating history as the world's largest ever voluntary action.  Around the globe, some of the world's most famous man-made marvels and natural wonders, including China's Forbidden City, Eiffel Tower, Table Mountain, Great Pyramids of Egypt, Buckingham Palace, Brazil's Christ the Redeemer statue, Niagara and Victoria Falls, Empire State Building, Sydney Opera House and many more global icons stood in darkness as a powerful symbol of landmark environmental action.  To get a better sense of the magnitude and inspiring nature of the event, please take a moment to watch the Earth Hour 2014 official video at www.youtube.com/earthhour.
Further information about The Westin Dragonara Resort can be viewed on www.westinmalta.com